Last updated January 2023
Weather is one of the most common conversations openers in the world, so having one of the best weather stations in your yard gives you a keen edge. We can talk about it to almost everyone we meet, and even TV channels and websites are committed to it.
Although watching the weather channel is informative, having your very own weather station at home is the best way to have real-time updates on the weather.
The weather ultimately affects our daily lives, and consumers today are willing to spend just to be prepared for the rain, sun, snow, and wind's ups and downs.
Whether you are budget-conscious, a camper, a fisherman, an avid gardener, or a farmer, finding the best weather stations for your needs will be ideal.  Use real-time measurements to record and help predict local weather conditions.
If you want to understand the choices and the essential factors in buying your weather station, we've tested and reviewed many weather stations.
Below are our top choices for the best weather stations to buy. Let's get into it!
The 6 Best Weather Stations 2023
Let's start with the best home weather stations review. The Ambient Weather WS-7079 Smart Weather Station with WiFi Remote Monitoring and Alert allows you to monitor your home and backyard weather conditions with a high-definition reverse PMVA color display.
The wireless sensor array and rain gauge measure wind speed/direction, temperature, humidity, UV, and solar radiation. The indoor thermo-hygrometer-barometer measures in millibars, inches of mercury, or hectopascals. You can also set up alerts based on your desired conditions so you'll always be notified if there's a change in the forecast.
Features:
Sensor Array – anemometer, a radiation shield, and a balance indicator for plumb installation. It connects to the console via RF (915 MHz) up to 100 feet of line of sight in the open air (300 feet under most conditions)
Enhanced WiFi – The WiFi connection is simple to set up and works with all types of WiFi routers. The web browser user interface or UI is used to control the networking between the router and a computer. Split-second accuracy is provided as a result of automatic internet UTC time server synchronization, which eliminates any potential for error.
Virtual Assistants – The Ambient Weather skill for Alexa and Google Assistant gives real-time and historical weather data generated by personal weather stations connected to the devices you own.
IFTTT Applets – The Ambient Weather server includes a timeline for keeping track of IFTTT-triggered web services, applets, and other gadgets such as blinds, rain gauges, and light.
Weather Networks – Connect with Weather Underground, WeatherCloud, and WeatherBug to access the world's most extensive private weather station network.

The
Ambient Weather WS-7079
is perfect for geeks who do not merely want to know the local weather updates but want to gather more specific and complex data to understand what is happening in the atmosphere.  Its price range is affordable, considering that it's a 10-in-1 machine. These best weather stations rate 4.5 out of 5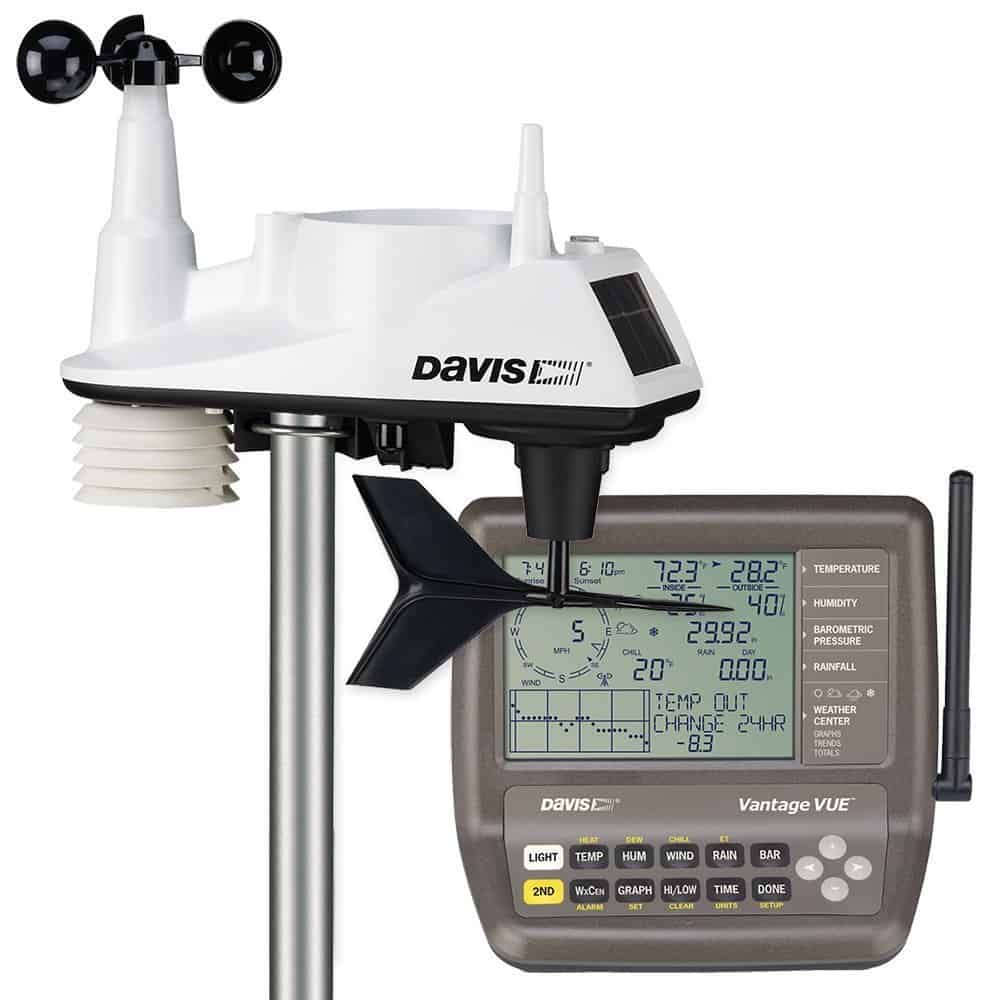 The best part about this weather station is its durability and design.  Davis Weather Station is well known for its high-quality manufacturing and excellent finishes.
It consists of a good display console and an integrated sensor suite (ISS).  The special part of this meter is that it's a compact of all kinds of sensors in a single package to give the maximum results.
It can easily survive in heavy wind and rain and its durability is pretty much appreciable.
The display is quite a relic and hence not as good as some of its competitors.  However, it has 10 clearly labeled functions, four directional buttons, a toggle for the backlight, and a button to switch between the 10 functions.
It provides you with a few unique features such as the moon phase, weather trend graphs, and the times of sunrise or sunset.
The Davis Vantage Vue 6250 is iconic and will be seen in any review of the best weather stations.
Features:
LCD Console – it features an easy-to-read display with a glow-in-the-dark keypad
Transmission range – transmits wirelessly from the outdoor sensor to the console up to 300 ft. / 1000 ft. (unobstructed)
Real-time weather updates – it sends updates every 2.5 seconds which is 10x faster than most weather stations
Rugged durability and extreme Accuracy – like the Vantage Pro2, this weather station provides accurate readings

Specifications:
Sensors: Indoor and outdoor Temperature, Humidity, Barometric pressure, Wind speed, Wind direction, Heat Index, Dewpoint, and Rainfall
Update Interval: Updates every 10 to 12 seconds
Connectivity and Power: Wireless, Solar panel power, Battery powered console
Davis Instruments 6250 Vantage Vue
is more affordable than
Vantage Pro2
but has lived up to the latter's accuracy. Plus it also reads dew point and rainfall, which makes it perfect for gardeners. If you're a weather junkie who doesn't care about the Internet and Smartphone connectivity, then the Vantage Vue is ideal for you.
AcuRite 01512 Best Budget Weather Stations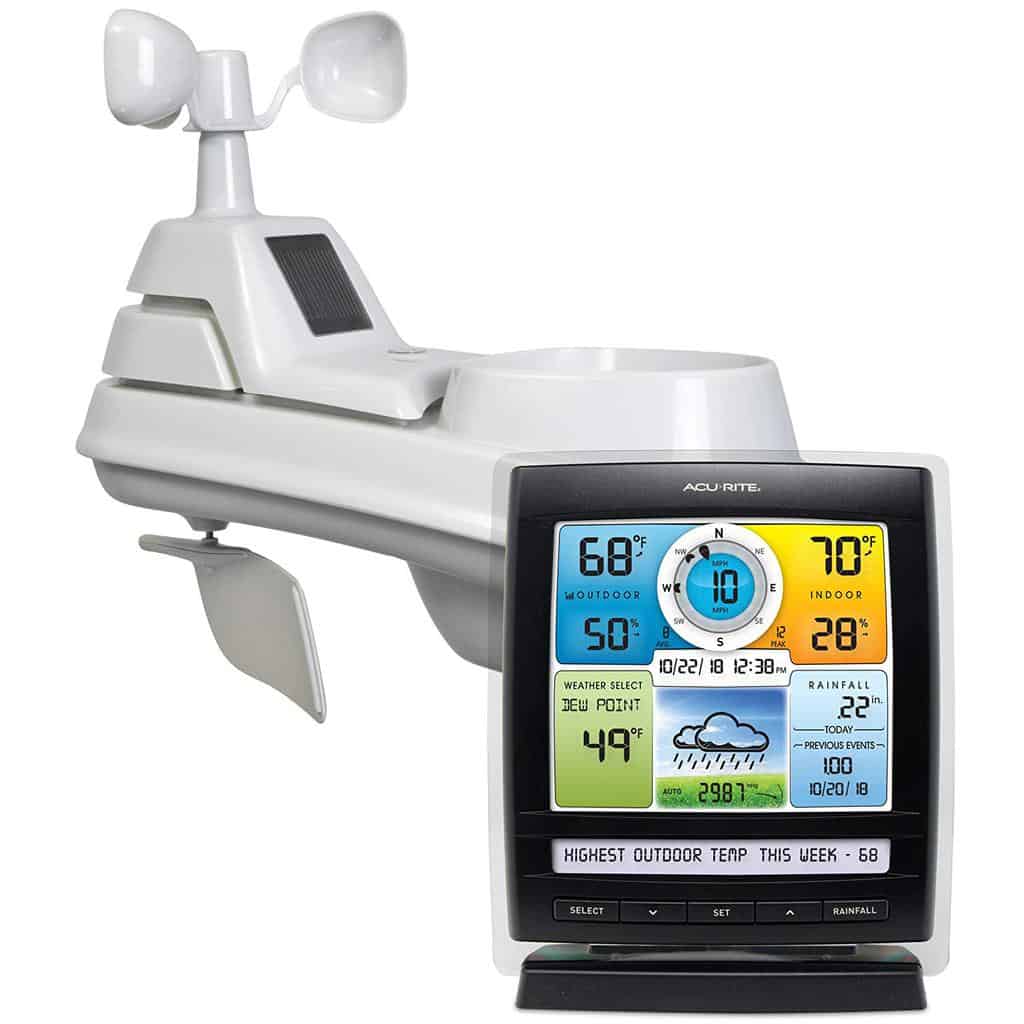 AcuRite is renowned as one of the best weather stations for the home.  The 01512 model can be easily used on the tabletop or mounted to predict the weather forecast, humidity, rainfall, etc.
With Self Calibrating Forecast by a 5-in-1 sensor, it offers the most accurate weather forecast of the exact given location. This easy-to-setup weather station comes with an assured warranty.
It catches a signal within a time frame of 5 seconds, and the rain gauge comes with excellent accuracy.  The measurements are easy to read from all possible angles and it can be your perfect partner to predict the weather mood and plan ahead.
Made in the USA, AcuRite will always feature in any list of the best weather stations.  The AcuRite 01512 is no exception.
Features:
5-in-1 – consists of five sensors; thermometer, anemometer, wind vane, hygrometer, and rain gauge
Maximum transmission range – it can communicate wirelessly up to 330 ft.
Self-emptying Rain Gauge – provides accurate and reliable rain measurements
Auto brightness dimming technology – the AcuRite 01512 has a large illuminated color display with an auto-dim or manual brightness adjustment
Self-calibrating Console – pulls data from the outdoor sensor right in your backyard and updates weather data of the exact location

Specifications:
Sensors: Rain, Wind speed & wind direction, Temperature, Humidity, Barometric pressure
Update Interval: Updates every 18 to 36 seconds
Connectivity and Power: Wireless, Battery powered
AcuRite 01512
is an impressive, high-quality weather sensor at an affordable price range.  If you're a newbie who's going to use the weather station for common purposes such as knowing the local weather forecast, then this model is perfect for you.  It provides accurate and reliable readings.  It has received the maximum comments for the best home weather stations reviewed on Amazon.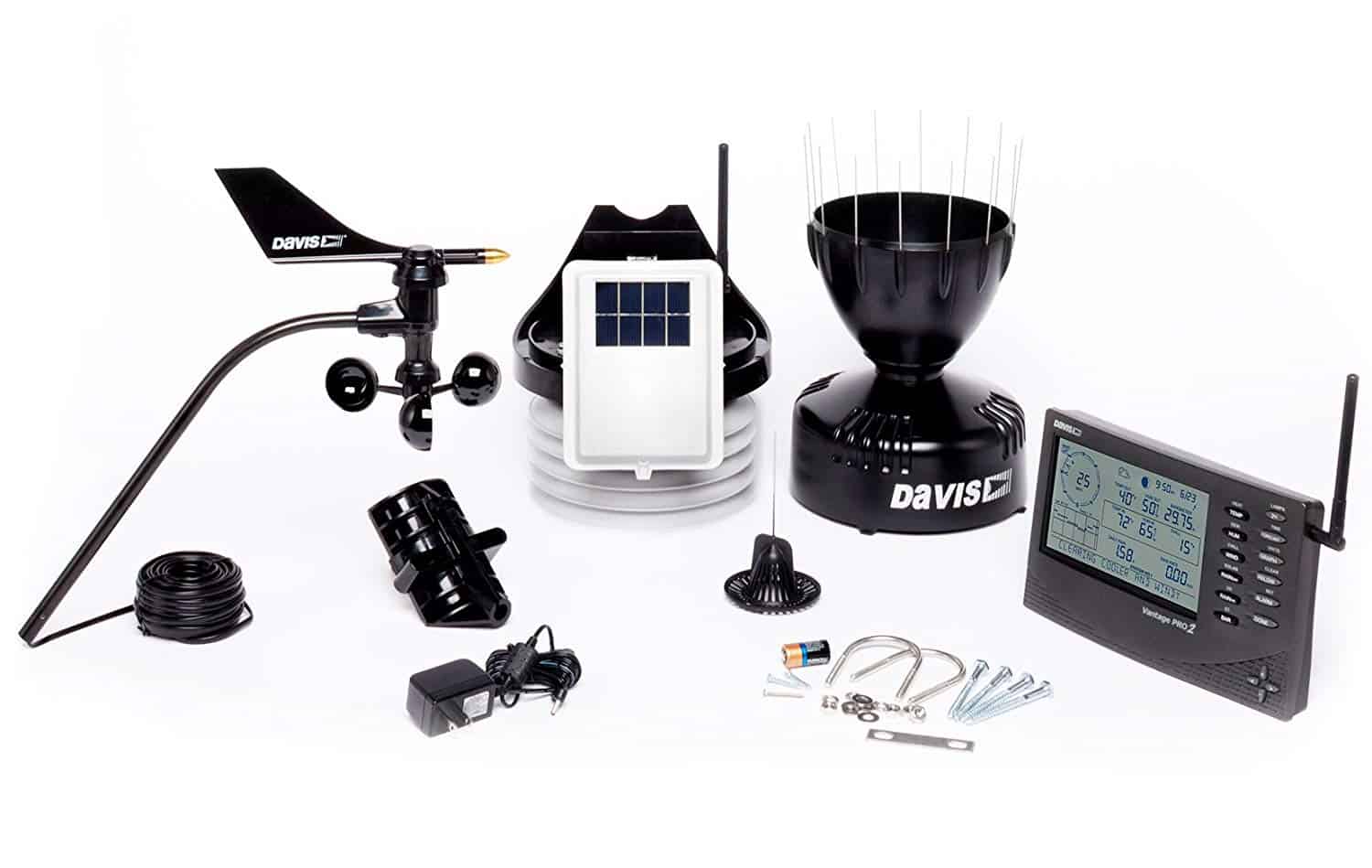 This is one of the best choices for farmers and schools who are serious weather watchers. The Davis Vantage Pro2 detects the most accurate weather conditions and it has never been disappointed with its readings.
It has an integrated sensor suite that can be easily customized by adding consoles or special-purpose options.  In fact, it has been tagged as the best weather station for the weather underground community.
Davis Vantage Pro2 comes with both wired and wireless variants. The wireless variant easily transmits data up to 1000 ft.  Also, for the purpose of connecting to the internet, Davis also offers WeatherLinkIP (which is sold separately).  This allows this top-brand weather station a lot of extended features including the internet.
Features:
Upgradable Sensor – the Vantage Pro2 allows you to add additional sensors like UV and solar radiation, soil moisture, leaf wetness, or whatever meets your needs
Supreme Accuracy – it has a radiation shield that houses the sensor from too much heat and radiation, resulting in more accurate measurements
Long-range transmission – the maximum range is 1000 ft. without walls and obstructions and an option to add wireless repeaters to reach up to 2.7 kilometers
Frequency-hopping Spread Spectrum technology – the first wireless home weather station that uses FHSS
High-quality – the station is constructed of over-molded plastic which prevents moisture from penetrating the electronics
Real-Time updates – sends weather updates every 2.5 seconds

Specifications:
Sensors: Temperature, Humidity, Wind Speed, Wind Direction, Rainfall (Precipitation), and Barometric Pressure
Update Interval: Updates every 2.5 seconds
Connectivity and Power: Wireless Solar-powered sensor, Console AC powered with backup batteries
The
Davis Vantage Pro2
is a worthy investment. You may have to pay a premium, but this is the king when it comes to weather station accuracy. And it's expandability is also its selling point. The design of the station it's outdated, and the additional sensors might be expensive; however, this is one of the most reliable weather machines on the market.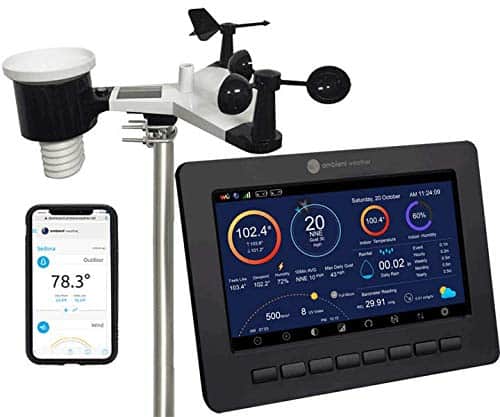 Ambient Weather WS-2000 is one of the best weather stations of all time and, with a medium price, its quality and durability are outstanding.
It can accurately measure wind speed, wind direction, temperature, rainfall, UV and solar radiation, and humidity.  Solar-powered with a good battery backup, you will maintain constant readings through any conditions.
An all-in-one sensor means you do not have to worry about purchasing any additional sensors.
The Ambient Weather WS-2000 offers all the features you would expect when you are looking for the best weather stations on the market.  And, it comes at a price far less than some of its competitors.
Features:
Solar Powered with Battery Backup – This is one of the most attractive features of this weather station.  It not only saves the environment but also drastically reduces operating costs
Bright and Colourful Tablet – The monitor of this weather meter has a large color display with easy-to-read icons
User-friendly – This is the only sensor in our list of best weather stations that can be connected to Alexa and Google Assistant
Expandable – It can be easily linked with up to 8 additional Thermo Hygrometer Sensors

Specifications:
Sensors: Indoor barometric pressure, humidity & temperature readings
Update Interval: It gets updated every 16 seconds
Connectivity and Power: It contains a wireless sensor and a solar-powered battery backup
This tablet has impeccably a lot to offer. We love the display screen and it is very easy to install. The only thing we resent about this model is its transmission range. It is comparatively less than other high-end models.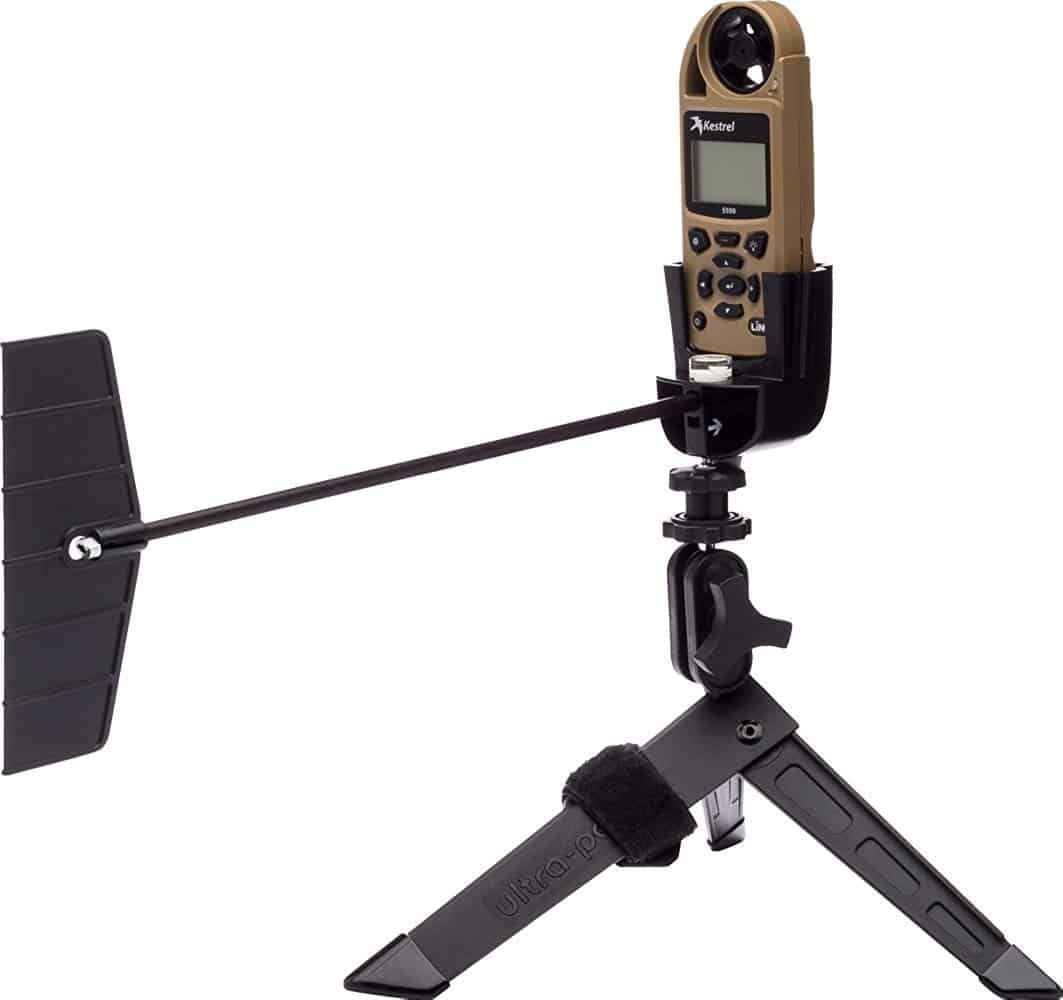 Let's move on to the last but certainly not the least.  The Kestrel 5500 wind meter is the most portable of our best weather stations in 2023.
Ideal for hobbyists, campers, and outdoor activists, this truly portable, yet powerful meter, goes anywhere with you.  Our best choice for those who love to travel or go hiking and want accurate weather data.
Use it for sailing or shooting, on the golf course, or when climbing mountains or abseiling.  This nifty machine is waterproof, dust-proof, and will withstand being dropped from large heights.  A handy lanyard and protective drawstring pouch should prevent such mishaps!
The Kestrel 5500 measures all conditions in a tiny unit.  Mount it onto any tripod, and it becomes a fully-featured weather station.
Kestrel LiNK connects to the app on your Android/iOS device to give continuous monitoring, real-time alerts, and customizable reports.
With many features found in more bulky machines, the Kestrel 5500 is worth looking at if you want accurate weather data on the go!  With a fairly high price point, its many unique qualities place it in our best weather stations for 2023.
Features:
Sensor – It has a house bulbed sensor which is slightly smaller and handles a few extra duties. Its sensor provides a wealth of measurement options including web bulb temp if in case it is exposed to the water
Battery – It comes with a battery case. It uses Lithium AA batteries and the housing is separate from the motherboard. Kestrel 5500 can run up to 400 hours before its battery needs to be replaced
Waterproof – Kestrel 5500 is waterproof and if in case it falls in any wet area or even the river, it floats and hence it can be easily carried to faraway places
Data upload action – Its data can be easily uploaded to Mac or Windows via Bluetooth to preserve the readings
Highly Durable – It is highly dust-proof, water-proof and drop-proof

Specifications:
Sensors: Measures wind speed, temperature, humidity, pressure, and direction
Connectivity and Power: It is a wireless and portable meter that makes use of a lithium AA battery
We highly recommend this for outside activities.  Many weather meters lose readings in adverse conditions, but this one can be your best camping partner.
Final Words
Above listed are some of the best weather stations available on the market today.  We've categorized each one of them with its core competence tag for your convenience.
We tend to believe that there's no "perfect" weather station.  All have different features and drawbacks, hence, you should select the "best one" according to your priorities.
Want to read more?  Try our Best Solar-Powered Weather Stations Buying Guide.