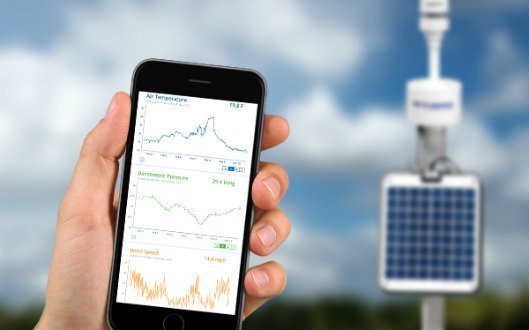 Are you one of those people who are obsessed with the weather? Does a bad weather forecast create excitement for you? Do you love weather trivia? Don't worry. You're in good company. Lots of people like you can tell you about the winter of 1880-81 and the summer of 1936. Hurricanes, tornadoes, and floods are all a part of the weather bug's daily life. Below are some of the Best In Class Weather Gadgets for Your Smartphone
Some sensible reasons may trigger your enthusiasm for the weather. You can plant a hobby garden or be a large-scale farmer. Either way, average first-and-last frost days are critical to your success. Maybe you love snow skiing or sailing. Outdoor hobbies are more comfortable when you understand the weather that creates ideal conditions. Want to dig deeper into your interest in meteorology?
One of the most exciting ways is to explore some of the top weather gadgets for your smartphone. Some smart weather gadgets are very affordable while some are more pricey. Here are some of the most exciting and helpful products to satisfy your appetite for everything weather-related:
This weather gadget comes with an indoor module to give you vital information about your home environment, including air quality. The phone app allows you to view the past weather, current weather, and the trends for the future. It pairs with the Amazon Alexa. Accessories include a rain gauge, a wind gauge, and additional indoor modules.
The modules are round, unobtrusive and small (1.8 inches in diameter by 4.1 inches high). The indoor module utilizes a USB wall adapter, while the outdoor module uses two AAA batteries. Both Apple and Android apps are available. Outdoor temperature measures between -40 degrees F and +150 degrees F.
Most owners give this weather gadget high marks (4- 4.5 stars) citing ease of use, battery life, connectivity and the ability to monitor the indoor temperature of their home while at work or on vacation. Many reviewers purchase an additional indoor monitor for their baby's room.
The Ecobee 3 smart thermostat announces itself as an intelligent Wi-Fi thermostat with room sensors. Most thermostats are located in hallways or close to the cold air return. That room is comfortable, but other places are either too hot or too cold.
The remote sensors measure occupancy and temperature, making intelligent heating/cooling choices. You'll get mobile access to view and adjust your sensors.
No more suffering from hot or cold spots in your home now. Users are giving the Ecobee 3 a solid 4.5 stars rating. You'll love the remote sensors that help average out the temperature within your house while "knowing" which room you are.
Its sleek matte black surface and uncluttered appearance is a bonus, and it works with Alexa.
If you require humidity control, then you'll probably choose the SensorPush wireless thermostat hygrometer. You'll get both from one smart weather gadget.
Dry air creates health problems for some people. Musical instruments like grand pianos, guitars, and violins, or harps are sensitive to humidity extremes. Your wine cellar is a prime location for a temperature or humidity sensor too. Chicken incubators and cigar humidors need a SensorPush also.
Homeowners report reducing mold in their bathrooms. Others use it in their hobby greenhouses. RV owners get peace of mind about food safety by placing one in their refrigerator while traveling on the road.
The accessible mobile app allows you to set up and monitor the gadget on your phone. You can download data into an Excel document from these smart weather gadgets.
This handy weather gadget fits easily into small spaces, and it scores a solid 5-star rating from users. You'll be ordering more than one.
The BlueMaestro Environment Monitor adds barometric pressure and dew point plus temperature and humidity. Wireless and shaped like a white pebble, this weather Gadgets for Your Smartphone can be wall mounted with a simple adapter. It weighs just under 3 oz and measures 3.5 x 2.8 inches.
Apps are available for both iOS and Android. You can monitor from afar and download historical data. It's affordable enough for hobby use and accurate enough for commercial applications. You'll get up to five years from two AA batteries.
You might like this to keep tabs on your basement. You might have to try from a couple of different rooms since you'll be dealing with interior walls and objects, but users report finding a sweet spot upstairs to monitor their basement.
If you live in an area that is prone to hurricanes, tornadoes or blizzards, this is the weather radio for you. Boaters will appreciate its features too. Multiple charging options mean that you can get weather updates when you lose power for days or weeks. You can use rechargeable batteries, AAA batteries, solar power, or hand crank.
Once your FRX3 radio is charged, you can charge your smartphone via USB. It also offers an LED flashlight and an emergency beacon.
Owners give it a solid 4-star rating. The major complaint was from owners who didn't set up their radio when it arrived. If you truly need this for times of emergency, be sure to set it up and learn how to operate it before an emergency strikes.