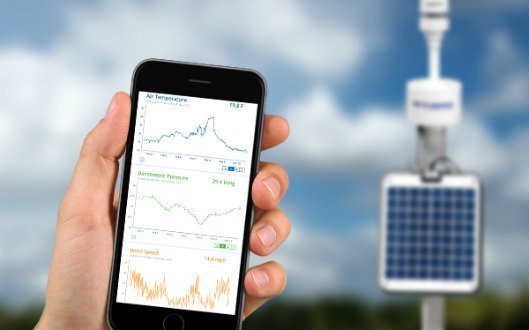 DISCLOSURE: THIS POST MAY CONTAIN AFFILIATE LINKS WHERE WE GET A COMMISSION IF YOU DECIDE TO MAKE A PURCHASE THROUGH THESE LINKS, AT NO ADDITIONAL COST TO YOU.
Are you one of those people who are obsessed with the weather? Does a bad weather forecast create excitement for you? Do you love weather trivia? Don't worry. You're in good company. Lots of people like you can tell you about the winter of 1880-81 and the summer of 1936. Hurricanes, tornadoes, and floods are all a part of the weather bug's daily life. Below are some of the Best In Class Weather Gadgets for Your Smartphone
Some sensible reasons may trigger your enthusiasm for the weather. You can plant a hobby garden or be a large-scale farmer. Either way, average first-and-last frost days are critical to your success. Maybe you love snow skiing or sailing. Outdoor hobbies are more comfortable when you understand the weather that creates ideal conditions. Want to dig deeper into your interest in meteorology?
One of the most exciting ways is to explore some of the top weather gadgets for your smartphone. Some smart weather gadgets are very affordable while some are more pricey. Here are some of the most exciting and helpful products to satisfy your appetite for everything weather-related:
Model
Price
From $149.99
Pros
✅ Easy installation

✅ Easy to pair with your Phone

✅ Universal access thanks to the smartphone app

✅ Impressive, compact design

✅ Highly durable product
Cons
❌ Short wireless range connection

❌ Base module lacks some standard weather instruments – rain collector, weather vane, and anemometer are costly to add

❌ No backup for indoor module

❌ Relatively high cost for what comes standard

❌ Short battery life on outdoor module
Dimensions
Indoor module: 45x45x155 mm / 1.8x1.8x6 inches
Outdoor module: 45x45x105 mm / 1.8x1.8x4.1 inches
Mechanics & Design
Single piece of durable aluminum shell. UV-resistant.
Sensors & Measurements
Temperature (indoor):
Ranges from: 0°C to 50°C / 32°F to 112°F
Accuracy: ± 0.3°C / ± 0.54°FTemperature (outdoor):
Ranges from: -40°C to 65°C / -40°F to 150°F
Accuracy: ± 0.3°C / ± 0.54°FHumidity (indoor and outdoor):
Ranges from: 0 to 100%
Accuracy: ± 3%Barometer:
Ranges from: 260 to 1160 mbar / 7.7 to 37.2 inHg
Accuracy: ± 1 mbar / ± 0.03 inHgCO2 meter (indoor):
Ranges from: 0 to 5000 ppm
Accuracy: ± 50 ppm or ± 5%Sound meter:
Ranges from: 35 dB to 120 dB
iOS Compatibility
iOS 9 or higher
Android Compatibility
Android 4.0 minimum required with access to Google Play
Windows Phone Compatibility
Windows Phone 8.0 minimum required
Sampling Interval
Every 5 minutes
Connectivity Specifications
Wi-Fi 802.11 b/g/n compatible (2.4GHz).

Supported security: Open/WEP/WPA/WPA2-personal (TKIP and AES).
Wireless connection between modules:
Long range 100m.
This weather gadget comes with an indoor module to give you vital information about your home environment, including air quality. The phone app allows you to view the past weather, current weather, and the trends for the future. It pairs with the Amazon Alexa. Accessories include a rain gauge, a wind gauge, and additional indoor modules.
The modules are round, unobtrusive and small (1.8 inches in diameter by 4.1 inches high). The indoor module utilizes a USB wall adapter, while the outdoor module uses two AAA batteries. Both Apple and Android apps are available. Outdoor temperature measures between -40 degrees F and +150 degrees F.
Most owners give this weather gadget high marks (4- 4.5 stars) citing ease of use, battery life, connectivity and the ability to monitor the indoor temperature of their home while at work or on vacation. Many reviewers purchase an additional indoor monitor for their baby's room.
Model
Price
From $168.98
Pros
✅ Same great Ecobee design and user interface

✅ Can work with remote sensors (but they're optional)

✅ Works with Amazon Alexa, Apple HomeKit, Samsung Smartthings, and IFTTT, among others

✅ Beautiful and attractive interface

✅ Easy to install and configure

✅ Good value for money

Cons
❌ Doesn't work with Google Assistant, which is the best home assistant in the market

❌ Lacks geofencing

❌ The sensors that make the Ecobee series special cost extra with this model

❌ A little overpriced compared to direct competition
Dimensions
Thermostat
Length: 4.05 in
Width: 4.05 in
Depth: 0.84 in

Trim Plate
Length: 6.69 in
Width: 6.69 in
Depth: 0.24 in

Display size
3.5" Touchscreen

Outdoor module:
45x45x105 mm / 1.8x1.8x4.1 inches
Mechanics & Design
Recyclable packaging
Mercury-free
Arsenic-free
PVC-free
ROHS compliant
Sensors & Measurements
Temperature Range:
Desired Temperature: 44° to 92°F
Display: 41° to 98°F
Sensitivity: +/- 0.9°F
Operating: 32° to 131°FHumidity Range:
Display: 20% to 90% RH
Sensitivity: +/- 5% RH
Operating: 5% to 95% RH (non condensing)
iOS Compatibility
iOS 9 or higher
Android Compatibility
N/A
Windows Phone Compatibility
N/A
Sampling Interval
N/A
Connectivity Specifications
Wi-Fi, IEEE 802.11 b/g/n @ 2.4 GHz
Wi-Fi Protected Access (WPA/WPA2) and Wired Equivalent Privacy (WEP)
DHCP (dynamic) or static IP addressing
The Ecobee 3 smart thermostat announces itself as an intelligent Wi-Fi thermostat with room sensors. Most thermostats are located in hallways or close to the cold air return. That room is comfortable, but other places are either too hot or too cold.
The remote sensors measure occupancy and temperature, making intelligent heating/cooling choices. You'll get mobile access to view and adjust your sensors.
No more suffering from hot or cold spots in your home now. Users are giving the Ecobee 3 a solid 4.5 stars rating. You'll love the remote sensors that help average out the temperature within your house while "knowing" which room you are.
Its sleek matte black surface and uncluttered appearance is a bonus, and it works with Alexa.
Model
Price
From $49.99
Pros
✅ It has an app that you can install and use on your iPhone or Android phone

✅ Easy to calibrate

✅ Can track temperature and humidity by hour, day, week, and year

✅ Notifies when the humidity gets below than what has been set

✅ Responsive tech support

✅ Sensor can be placed anywhere

✅ Has a range up to 325 feet

✅ Accurate and responsive

✅ Sensor can hold up to 20 days of data

Cons
❌ Slightly expensive compared to others

❌ Some complained about the app taking too long to load data

❌ It drains the battery of the phone
Dimensions
40mm x 40mm x 16.5mm / 1.57" x 1.57" x 0.65"
Mechanics & Design
Swiss-made sensing component provides reliable, accurate measurements
Sensors & Measurements
Temperature Range: -40°C - 60°C (-40°F - 140°F)

Humidity Range:
0 - 100%
(prolonged exposure to > 80% RH may create an offset of up to +3% in the readings. This effect gradually reverses after return to < 80% RH conditions)

Temperature Accuracy: (0°C - 60°C / 32°F - 140°F)
±0.3°C / ±0.5°F typical 0.5°C / ±0.9°F maximumTemperature

Accuracy: (Full Range) ±0.7°C / ±1.3°F typical 1.2°C / ±2.2°F max

Humidity Accuracy: (@ 25°C / 77°F, from 20% - 80% RH )
±3% typical ±4.5% maximum
iOS Compatibility
iOS 8 or higher
Android Compatibility
Android 4.3 or higher
Windows Phone Compatibility
N/A
Sampling Interval
Every minute
Connectivity Specifications
Requires Bluetooth 4.0+ (also known as Bluetooth LE)

Add a SensorPush G1 WiFi Gateway (sold separately) for data and alerts via the Internet. 100 meters wireless range
If you require humidity control, then you'll probably choose the SensorPush wireless thermostat hygrometer. You'll get both from one smart weather gadget.
Dry air creates health problems for some people. Musical instruments like grand pianos, guitars, and violins, or harps are sensitive to humidity extremes. Your wine cellar is a prime location for a temperature or humidity sensor too. Chicken incubators and cigar humidors need a SensorPush also.
Homeowners report reducing mold in their bathrooms. Others use it in their hobby greenhouses. RV owners get peace of mind about food safety by placing one in their refrigerator while traveling on the road.
The accessible mobile app allows you to set up and monitor the gadget on your phone. You can download data into an Excel document from these smart weather gadgets.
This handy weather gadget fits easily into small spaces, and it scores a solid 5-star rating from users. You'll be ordering more than one.
Model
Price
From $59.50
Pros
✅ Small and stylish design

✅ Cheap to run

✅ Genuinely informative

✅ Customer support for both the app and the Tempo is prompt and knowledgeable


Cons
❌ Interface on the App is bad

❌ Limited range

Dimensions
Height 35 mm/1.5 inches
Length 90mm/3.6 inches
Width 70mm/2.8 inches
Mechanics & Design
Poly-carbonate exterior with TPE soft touch button, rubber feet and LED indicator. Optional wall bracket made from clear poly-carbonate.
Sensors & Measurements
SENSOR UNIT:Bosch Sensortec BME280. For further details on the following
sensor accuracies please refer to the BME280

TEMPERATURE SENSOR:
Maximum accuracy of +/- 0.5º
Celsius between 0º C - 60º C with a full range of -30º C and +85º C Degrees Celsius. Resolution of 0.1º C

HUMIDITY SENSOR:
Maximum accuracy of +/- 3%
Relative Humidity between 20% RH - 100% RH..
Full range 0% - 100%
RH, Resolution of 0.1% RH

PRESSURE SENSOR:
+/- 0.12hPA relative pressure (hPa)
between 700hPa - 900hPa with a
full range between 300 hPa and 1100 hPa.
Resolution of 0.1hPa

DEW POINT:
Dew point is calculated using an algorithm with Temperature and Humidity as inputs

ANTENNA:
Johannson Technology 2450AT18D0100 omni-directional chip antenna with matching tuning circuitry

RANGE:
75 meters/250 feet line of sight
iOS Compatibility
Compatible with the Tempo Utility App for iOS

Android Compatibility
Compatible with the Tempo Utility App for Android

Windows Phone Compatibility
N/A
Sampling Interval
Can be set from 1 minute to 24 hours
Connectivity Specifications
BLUETOOTH VERSION 4.1
BLUETOOTH SYSTEM ON CHIP
Nordic Semiconductor nRF52832
100 meters wireless range

Add a SensorPush G1 WiFi Gateway (sold separately) for data and alerts via the Internet.
The BlueMaestro Environment Monitor adds barometric pressure and dew point plus temperature and humidity. Wireless and shaped like a white pebble, this weather Gadgets for Your Smartphone can be wall mounted with a simple adapter. It weighs just under 3 oz and measures 3.5 x 2.8 inches.
Apps are available for both iOS and Android. You can monitor from afar and download historical data. It's affordable enough for hobby use and accurate enough for commercial applications. You'll get up to five years from two AA batteries.
You might like this to keep tabs on your basement. You might have to try from a couple of different rooms since you'll be dealing with interior walls and objects, but users report finding a sweet spot upstairs to monitor their basement.
Model
Price
From $39.99
Pros
✅ Inexpensive weather alert system

✅ Can be used to charge smartphone

✅ Crisp audio

✅ Aux-input to play music from external MP3 player

✅ Back-lit display and Illuminated buttons for easy readability

✅ Glow-in-the-dark locator
Cons
❌ Batteries drain fast

❌ Poor reception
Dimensions
Height: 6.9" (17.5cm)
Width: 5.8" (14.7cm)
Depth: 2.6" (6.6cm)
Weight: 0.93lbs (0.42kg)
Mechanics & Design
With a large, ergonomic hand crank, integrated LED flashlight, USB port for charging smartphones, mini-USB cable, and a built-in solar panel for supplemental power.
Sensors & Measurements
Receives AM/FM & Weather band Alerts from all seven NOAA (National Oceanic and Atmospheric Administration) weather band stations and the "Alert" system.
iOS Compatibility
Can be charged
Android Compatibility
Can be charged
Windows Phone Compatibility
Can be charged
Sampling Interval
N/A
Connectivity Specifications
Automatically adapts signal through a retractable antenna.
If you live in an area that is prone to hurricanes, tornadoes or blizzards, this is the weather radio for you. Boaters will appreciate its features too. Multiple charging options mean that you can get weather updates when you lose power for days or weeks. You can use rechargeable batteries, AAA batteries, solar power, or hand crank.
Once your FRX3 radio is charged, you can charge your smartphone via USB. It also offers an LED flashlight and an emergency beacon.
Owners give it a solid 4-star rating. The major complaint was from owners who didn't set up their radio when it arrived. If you truly need this for times of emergency, be sure to set it up and learn how to operate it before an emergency strikes.