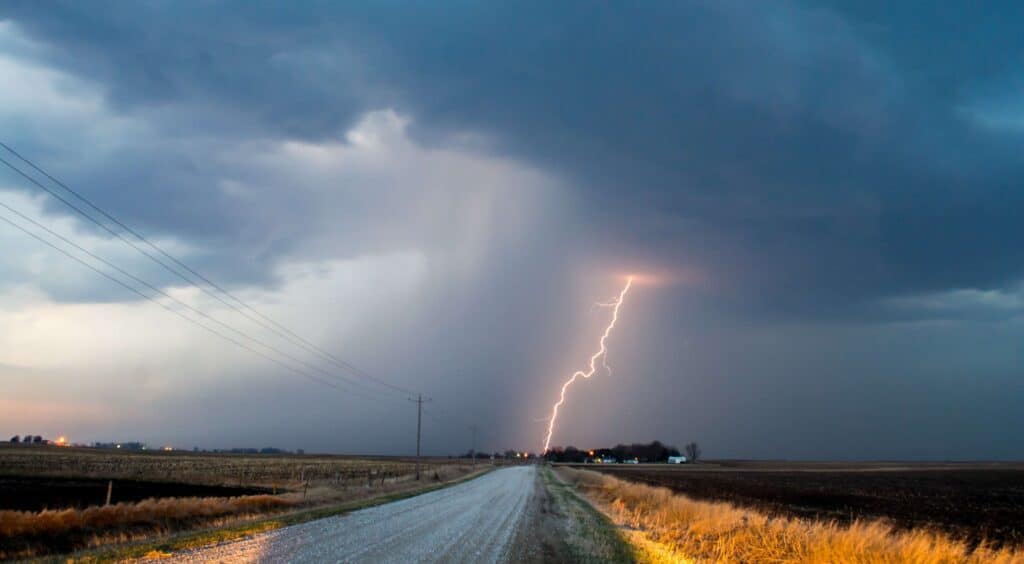 Weather Stations With Lightning Detectors: Top Picks & Prices For 2020
Whether you're using it for business or leisure, a weather station might just be one of the best purchases you make all year! Okay, maybe I'm a little biased… but still. The added function of lightning detection has become more desirable over the last decade or so, and it's no surprise.
Again, some people are simply weather enthusiasts, (like me!), and others, particularly those who work outdoors or have outdoor hobbies, may have specific uses for them. We'll come back to how it works, and some use cases after the product recommendations.
And before we jump in, I feel it's worth pointing out that this article is not sponsored by AcuRite! It is simply the case that they offer the best range of weather stations with lightning detectors. So without further ado…
At A Glance: Best Weather Station With Lightning Detector
Last update on 2021-01-26
If you're in a rush, this table is a really good starting point with links to Amazon for products at each price point. The most popular choice is, unsurprisingly, the 01022M — which is my top pick too, in terms of value for money.
If you want to read on to learn more about each, please feel free!
Best For Use At Home
Reduced
AcuRite Iris (5-in-1) 01022M Pro Weather Station Detector (01022), Lightning Detection
5-1 weather station with future forecast, barometer & weather ticker
Wireless sensor detects lightning up to 25 miles (40 kilometers) away
Color display with programmable alarms for lightning, temperature, humidity, pressure, wind speed, direction, rain, heat index, dew point, and wind chill
Perfect for home and pro use. Plan your day with confidence
Company Based in Lake Geneva, WI, USA - Since 1943
Last update on 2021-01-26
This 5-in-1 weather station is a safe bet for almost anyone buying a weather station for use at home. Even better if you're looking for a lightning detector included!
There are a couple more models at a higher price point in this range, including the Atlas which we'll discuss in just a minute. But for the vast majority of users, the 01022M will do the job perfectly, without breaking the bank.
You'll get accurate weather forecasting for your precise location (rather than the general weather predictions for your whole city that you might get on the news), and lightning detection up to 25 miles (~40km) away! Plus, other useful information like rainfall data, barometric pressure, indoor temperature / humidity & more.
You'll even be able to easily stream weather data to your devices wirelessly.
Best For Professional Use
AcuRite Atlas 01007M Weather Station
Real-Time Weather Conditions from Your Desktop, Android, iPhone or Tablet
Create Custom Alerts to Monitor Your Home Environment From Anywhere
High-Definition (HD) Touchscreen Display Looks Great in Any Room
UV Index and Light Intensity Along with Accurate Wind, Rain, Temp and Humidity Sensor
American Based Company in Lake Geneva, WI, USA
Last update on 2021-01-26
If you don't mind spending a little more money for a higher-end product, then the Atlas could be a good choice for you. Of course it can work well in both home and professional settings, but if you're using this for work/business, I'd recommend spending the extra money.
With this station, you get everything you do with the 01022M, plus here are some notable differences:
AcuRite Access Hub is included (sold separately for the 01022m)
Temperature & humidity readings have a closer degree of accuracy
Light intensity & UV index included
Data updates slightly quicker
Wind direction can be measured 360º
Budget Option
Last update on 2021-01-26
Now, if you're looking to get the basics for under $100, this is the option for you. The 01021M might not have the bells & whistles and performance of the Atlas, but it is a weather station, and it has a lightning detector — which is what you're here for after all!
Instead of going in-detail about what you do get with this model, I'll point out for you the main things you don't get compared to the other models. Then, you can decide how important those features are to you.
Not having an anemometer is probably the biggest single difference you'll find. That means you won't be able to get wind speed & wind direction data.
The next, perhaps equally important difference is that this model doesn't display indoor temperature (though it does display outdoor). Same for indoor humidity.
Other than that, the differences are fairly minor. E.g., this model doesn't have the 'Weather Ticker' updating real-time information such as the 'feels like' temperature & moon phase.
Honorable Mentions
Without going into too much detail on these ones, here are a couple of other options to check out if none of those first three float your boat!
Note: you'll need to add the optional lightning detector to this purchase. It doesn't come included by default.
Last update on 2021-01-26
Very similar to the 01022M, but with HD display for a slightly higher price at the time of writing, though still cheaper than the Atlas.
(The product box below should pull through an up-to-date price from Amazon).
Last update on 2021-01-26
What To Look Out For When Buying
If you've read this article up to now, you'll probably have a decent idea already. But just to summarize and wrap up, here's a few things I'd recommend you have in mind when making any weather station purchase:
Functions. These models have, as you would expect, a variety of features and functionality. Think about what you need. Rainfall measurement, weather forecasting, lightning detection, temperature and humidity (indoor/outdoor), ability to stream data to a phone/PC, wind speed & direction, etc. — not all of these models have all of these features. Take a minute to think about which you'd use!
Brand. Not too much to say here, since these models are all by reputable manufacturers. AcuRite and Ambient Weather are both hugely respected names in this field, with great teams. But if you find some alternative options from other brands, do your research, read reviews etc., as with anything.
Price. You can easily spend anywhere from ~$75 to ~$300+ on a weather station that has a lightning detector. This will be largely dictated by the functions that we already discussed, but there is a product out there to suit most budgets.
Warranty. It's worth taking a minute to check what, if any, warranty your product comes with. It's pretty common to see a 1-year warranty, especially with AcuRite. You may need to check the manufacturer's websites directly for this, as those details aren't always on Amazon.
Why Use A Lightning Detector?
Lightning detectors work by picking up the electromagnetic pulses that are given off by a lightning strike. But why bother to use one, what are the use cases?
Well, there are probably an infinite number, but here's a few to think about.
For hobbies and sports. E.g., a sports official may decide to keep players off a sports field if they believed lightning posed a risk.
For travelling. Of course you don't want to be flying a plane or sailing a boat if there's a risk of lightning, but some people may choose to not even drive, walk, cycle — or generally go outside at all.
For weather reporting. Whether that be a news station, or a hobbyist!