An Acurite rain gauge is one of the best you can buy.  Tools such as the AcuRite rain gauge have become a staple for farmers, gardeners, environmentalists and other people with interests or stakes in the weather. Furthermore, by tracking current and historical rainfall you can accurately predict flood conditions.  Take the appropriate action at this time and save your precious family, home or livestock.
This nifty piece of machinery allows you to easily measure rainfall and how it affects your farm or garden without having to buy an entire weather station.  In fact, Acurite manufactures basic rain gauges, digital rain gauges and even rain monitoring systems.  These can be linked via the My Acurite app to give email or text alerts about changing weather conditions.
If you are looking to find the best Acurite rain gauge for your home, you are in the right place.  Our weather experts have reviewed 4 of the best AcuRite rain gauges available in the market today.  To make these decisions we have considered several factors, including the model's capability, reviews of past users, and our own opinions based on the observation of each of these options.
Read on to see our full review of the 4 best AcuRite rain gauges.
Last update on 2023-10-01
The first product on our list is the AcuRite 00850A2. 
While being one of the cheapest available, this product has gained a reputation for its value for money.  It costs less than ten percent of most other gauges around and works just as well as its pricey counterparts.
The simple design improves its ease-of-use by anyone, and the magnified reader makes it simple to measure even the smallest rainfall.  Many hobbyists use this rain gauge because of its design and simplicity.
Below are some of its main features:
Our Review
Even with its low price and lack of durability the AcuRite 00850A2 enjoys widespread affection in the market.  The product is rated 4.6 stars out of 5 stars on Amazon, with 76% of those ratings giving it 5 stars.
When you buy this rain gauge, all you have to do is install it somewhere with no obstructions and watch it start working immediately.
The AcuRite 00850A2 is great for a gardener, hobby farmer or all around weather hobbyist.
The next Acurite rain gauge we will be reviewing is the AcuRite 00899.
This product is arguably the best from the AcuRite and the first choice for many people.  While some models focus on specific purposes, the AcuRite 00899 is one of the best all-rounder rain gauges available.
It combines technology, great design, functionality, durability and much more to be one of the best professional rain gauges in the industry.
Here are some of its top features:
Features
Rainfall is measured in inches or millimeters

Self-emptying rain collector that automatically releases the collection cup.

Programmable rain and flood watch alarm that predicts potential flooding.

Digital display that you can read from any room in the house

Outdoor rain totals are transmitted to indoor display every 16 seconds

It has a wireless range of 100 feet and a wireless signal penetration of 433 MHz
Our Review
This product gets a thumbs-up every time.  The Acurite 00899 digital rain gauge has a 4.3 stars rating on Amazon, with 69% of the reviews giving the product all 5 stars.
We believe that it is a product you can use for the long-term and enjoy while doing so.  It is a remote rain gauge, allowing you to read the display in the safety of your home while the sensor is positioned outside.
The self-emptying feature also saves you some stress as well as the incoming rain alarm (which has saved a lot of laundry from getting wet again!).
For a great price the Acurite self-emptying rain gauge is a fantastic product for anyone who is looking to use a rain gauge.
The AcuRite 02446M rain gauge is an excellent example of what a basic rain gauge ought to be.
This product is fully wireless, transmitting data from the sensor outside to the indoor display. 
Its self-emptying feature also saves you the stress of having to empty the bucket after every rainfall. What this does is allow you the freedom of having up-to-date data on rains without having to deal with the gauge.
The top features include: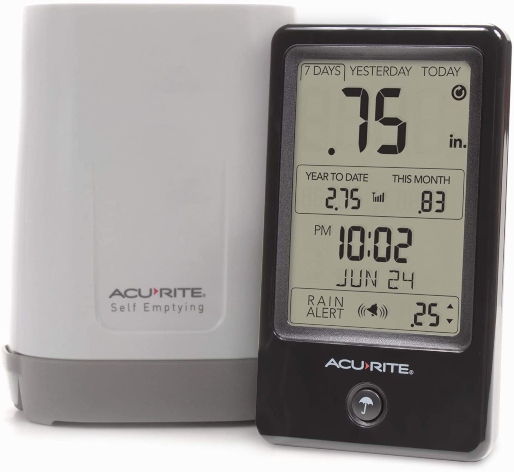 Features
It has an outdoor rain collector that measures rainfall in your backyard and transmits the readings wirelessly to the indoor display.

Transmits data every 60 seconds.

Self emptying rain collector.

It has a customizable alarm that notifies you when your set rainfall total is reached.

Wireless range of 30 feet.
Our Review
This product ticks all the right boxes to make it one of the best budget rain gauges in the market.  It is rated 4.3 out of 5 stars and lives up to the reviews.
Cleaning is not easy and you need to remove the cover to change the batteries every now and then.  However, the benefits more than make up for these.  Super accurate, easy to use and set up with a terrific digital display.
This product gives great value for money and is perfect for any home.
The AcuRite Glass Rain Gauge is the final product we will be reviewing in this post.  It is the simplest rain gauge of all the AcuRite designs and is one of the easiest to use in your home if all you want is to simply measure the rain fall for your garden.
These sturdy glass rain gauges come in a pack of 3 for convenience.  You can put them in different areas of the garden or keep them as spares for a later date.
The Glass rain gauge provides great accuracy and is easy to read thanks to large red numbers.  What it has over most gauges is its ability to measure up to five inches of rainfall.
If you are going for this product, here are some of its features to guide you: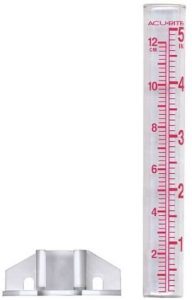 Features
It has a mounting base which allows you to drill it into a fence or wall or it can stand upright on its own.

There is a large display with red numbers for easy reading.

It is made of glass which is a more durable material in extreme climates. 

The measurement is done in 10th of an inch or centimeters
Our Review
This product is a great place to start if you are looking for a simple rain gauge that still does all it says it does.
The reviews on Amazon rate it 4.1 stars out of 5, considering both local and global buyers.
What propelled this product to make our list is that it gets the work done, and there are not many cons to it.
Things to Consider When Choosing an Acurite Rain Gauge
Rain gauges vary in material, design, functionality, price and more.  These differences matter depending on what you intend to use the device for.  If you are a hobbyist just looking to measure rainfall for fun, you may get one of the cheaper and less efficient models. 
However, if you have an important stake in the level of rain, go for the high-efficiency models, even if they cost you some extra dollars.
Before you choose an AcuRite rain gauge, here are some of the factors to consider:
Accuracy
The primary thing to check is how accurate the rain gauge is.  As stated earlier, if you are looking to monitor rainfall for the fun of it, you may go for a model whose accuracy is not 100% perfect.
However, you have to follow the weather station's updates to ensure that your figures are not drastically different.  If you want to use the rain gauge to determine the extent of water your crops or flowers have already consumed, you may need to ensure that the accuracy is top-notch.
A great tip is to get a gauge with a measurement of a hundredth of an inch, as these are easier to read than those measured to a tenth of an inch.
Measuring Capacity
If you are going for the best AcuRite rain gauge available, you have to consider the measuring capacity of each option before you make a purchase. 
Most digital gauges have unlimited capacity, which makes them great choices under this category.   Meanwhile, there are also some analog models with high measuring capacity that you can never fully utilize.
Watch out for rain gauges that have minimum measuring capacity otherwise you will not get good data from heavy rainfalls. 
Durability
The durability of gauges is highly dependent on their construction.  Many older models are made with plastic materials, some of which can quickly discolour and disintegrate in the sunlight.
On the contrary, newer models are adopting glass materials that fare better under the onslaught of harsh weather.  If you want to use your gauge for a long time, get one with a suitable plastic material or glass.
Technology
Technology has revolutionized rain gauges from what they used to be, and you must be aware of the changes.  Most people now prefer wireless rain gauges that can transmit data remotely and record relevant history over some time.
There are also technologically advanced gauges that can measure the water level from your home and transmit the data to you over a distance via an app. 
Installation
Installation is essential in the functionality of your rain gauge as even the best gauges will fail if not properly installed.
When faced with different options, it is better to go with a mounting bucket model, as this will ensure you have a place to position the gauge.  That positioning is best done by the fence post or pole.
Also, install the gauge out of the way of obstructions such as a large tree or building.
So there you have it!  Our list and review of the best AcuRite rain gauges on the market in 2022.
We've made sure to keep it simple and easy to compare so that you may choose the best rain gauge to fit your needs.  Remember to think about why you need a rain gauge and what you want it to achieve as you compare and decide on the AcuRite Rain Gauge you wish to buy.
That said, we can honestly say that if you are willing to pay some extra dollars for great quality then do so and not only get a superior rain gauge but save yourself some stress and disappointment later down the line.