Living conveniently means having the right temperature at home and a  home smart thermostat will help.  Being busy at work and with family, we don't have time to regularly adjust the temperature which is the main culprit of high electricity bills.  The good news is, with today's technology heating or cooling can be controlled automatically by incorporating a smart thermostat.  
What Is A Smart Home?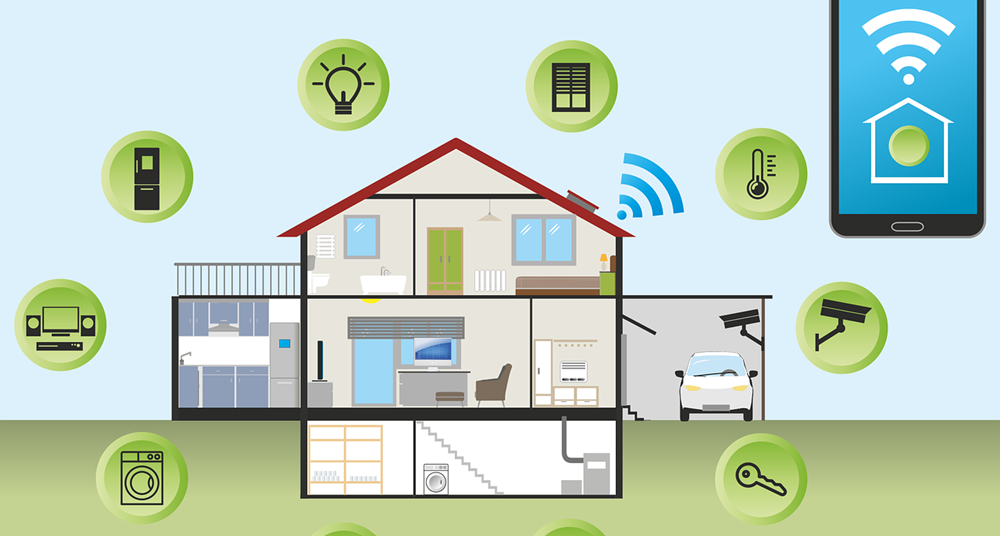 A smart home is an intelligent and convenient home setup where all devices are connected to one network. These can be controlled either remotely or by voice commands.  Devices you can connect include lighting, appliances, security, window shades and shutters, and even heating and cooling.
Most smart home devices use a smartphone app that allows you to access and control them remotely. However, the definition of a smart home applies to even the most simple of products, such as a connected speaker.
How Can A Home Smart Thermostat Save You Money?
Heating and cooling are one of the biggest energy consumers in any home.  Invest in a home smart thermostat that can be connected to a weather station to save money. 
Indeed, the thermostat can receive real-time weather data to monitor the weather and adjust your home's temperature automatically.  You don't have to wait until you get home to have to crank up the temperature. A smart thermostat can keep your internal temperature and humidity within a set range.
Smart homes will save money by powering down appliances that are not in use.  Some are capable of switching lights off if they are left on for extended periods.  You can really pocket the savings and reduce your energy consumption with a cleverly set up smart home.
What Is A Home Smart Thermostat?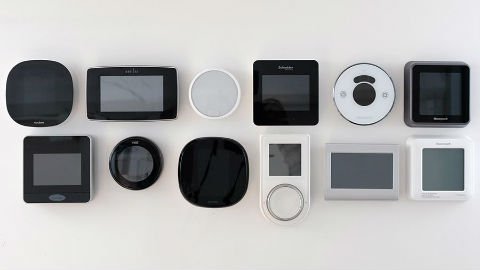 A smart thermostat allows you to control the internal temperature and humidity of your home via your heating and cooling system remotely, using a smartphone or tablet. When you're about to leave the house, you can quickly turn it off and when you're about to get home, you can turn it on beforehand.  No more walking into a freezing house and waiting an age for it to warm up.
This is also true during the hotter months when your home can be cooled down before the family arrives.  Moreover, these clever devices offer the convenience of turning your system on and off, as long as you're connected to the internet.
Some of the best smart thermostats like the programmable thermostat can actually remember your routine and automatically switch it on and off for you.  Some work with Amazon Alexa, Google Assistant, or Apple Homekit which works through voice assistant or voice command.
Why Do You Need A Home Smart Thermostat?
1. Save Money
You can save up to 10% each month on your energy bill by automatically adjusting your thermostat even when you're away.  As the weather changes, you can also adjust and set your thermostat according to your preferred home temperature.  You may also be eligible for a residential energy efficiency tax credit when you switch to a smart thermostat.
A home smart thermostat ensures that you keep the temperature in your house within a certain range.  Fully adjustable for every season, you can set a program to keep the temperature inside the house above a certain level. 
This means that when you want to fully heat the house in winter, say for when you get home, the heating system isn't having to work as hard.  Moreover, this will save money by maintaining a constant low temperature and only heating when necessary.
Of course, this also applies during the hotter months!
2. Remote Access With A Home Smart Thermostat
Your smartphone or tablet serves as the remote control for your heating or cooling system.  All you need do is install the corresponding app for your smart thermostat and you're all set.  Wi-fi thermostats are the ones that allow users to connect via Wi-Fi and be controlled through their built-in remote sensors.
So, when you're on vacation and have forgotten to turn off your HVAC systems, there is no stress.  Easily turn it off or adjust the temperature by simply logging on to the internet and making the adjustments.
3. Protect the Environment
Optimizing and adjusting the temperature of your home will save you money on your heating and cooling bills.  Furthermore, you can also help protect the environment and reduce your energy footprint.
Home Smart thermostats, like the Nest learning thermostat, include nifty features such as maintenance reminders.  The sensor can detect a dirty filter and notify you when it's time to change your air filter.
Other features allow you to monitor energy consumption and keep track of how much you use each week.  By tracking this data, you can adjust the settings of your home smart thermostat for better efficiency of your heating and cooling.
4. Convenience Of A Smart Thermostat
With all the above benefits, comfort is the very reason you should have a smart thermostat at home.  If you want a thermostat that will work independently but also efficiently, connects it to a weather station for constant monitoring and updating.
The Google Nest smart thermostat can make it happen for you.  Home/Away Assist with an Eco setting will automatically adjust the temperature when you leave the house.  This fully programmable device can learn your schedule and adjust settings to save you money.  An Energy History function shows your consumption of when during the day and on what.  A green Nest Leaf appears on the display when you choose a setting that saves energy.
Best of all, connect your Google Nest smart thermostat to a weather station and have instant updates on the weather outside. Your smart device can then adjust the settings within the house for keeping the temperature inside constant.
One of the best weather stations to connect to a home smart thermostat is the Ambient Weather WS2000.  Using WiFi technology, and compatible with Amazon Alexa and IFTTT, program the weather station to update outside conditions. Your smart thermostat can track the readings and adjust the internal temperature.
Our favorite, however, is the Netatmo Personal Weather Station which comes with both outdoor and indoor units.  These communicate with each other to monitor temperature, barometric pressure, and humidity.  This amazing device can also track noise levels indoors as well as air quality inside and outside.  Connect your Netatmo Smart Weather Station to a home smart thermostat and adjust the indoor temperature based on local climate conditions.
Last update on 2023-11-29
Connecting your Weather Station to your Smart Thermostat in three easy steps:
Install your Weather Station. Connect it to your Wi-Fi network and register it with the same Netatmo account as your Thermostat.
 Activate the Heating Prediction feature (Android: Operating Mode > Heating Prediction; iOS: Operating Mode > Heating Prediction).
 Select either the local weather forecast or your Weather Station as your source.
Conclusion
Using a home smart thermostat can save you money on your energy bills by keeping the internal temperature of your home constant.  To improve usability and save even more money, connect it to a weather station for better accuracy of data.
Also, many smart thermostats connect with other devices such as Google Assistant, Amazon Alexa, or Apple Homekit. 
Read more related articles here.