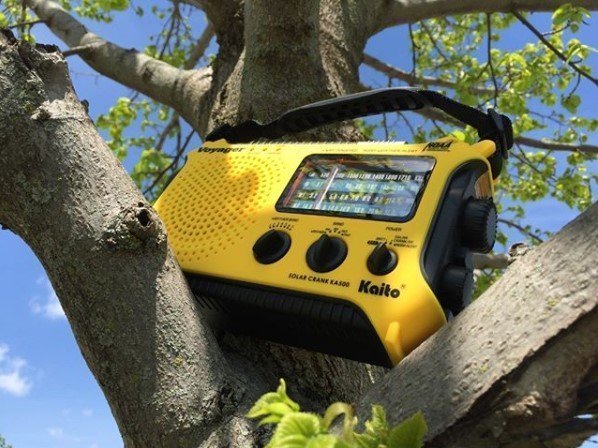 An emergency radio is very useful, especially for those who live in areas prone to extreme weather conditions. Although technology has taken a big leap, depending on a Smartphone app can't give you the needed information and assistance during an emergency. After spending almost 10 hours of research looking for the best emergency radios, we finally found the best of the best in the market. We also included two-way emergency radios in this review.
| | Kaito KA500 | FosPower | Runningsnail MD-088s | Greadio GR-002W | Eton FRX3+ |
| --- | --- | --- | --- | --- | --- |
| | | | | | |
| Editor Rating | | | | | |
| Price | $$$ | $$ | $ | $$ | $$$ |
| NOAA Weather | ✔️ | ✔️ | ✔️ | ✔️ | ✔️ |
| SOS Alarm | ✔️ | ✔️ | | ✔️ | |
| Solar | ✔️ | ✔️ | ✔️ | ✔️ | ✔️ |
| Flashlight | ✔️ | ✔️ | ✔️ | ✔️ | ✔️ |
| Hand Crank | ✔️ | ✔️ | ✔️ | ✔️ | ✔️ |
| USB Charging | ✔️ | ✔️ | ✔️ | ✔️ | ✔️ |
| AC/DC Input | ✔️ | | | | |
| Reading Lamp | ✔️ | ✔️ | | ✔️ | |
| Water-resistant | ✔️ | ✔️ | ✔️ | | |
| Powerbank | 1000mAh | 2000mAh | 1000mAh | 2000mAh | 2600mAh |
Top 5 Best Emergency Radios
1. Kaito KA500 Emergency Radio
The Kaito KA500 Emergency Radio is a reliable and versatile emergency preparedness tool that had a good reputation. It's an all-in-one package because it has all the functionalities and features needed in an emergency radio. It offers 6-way power options, including an AC/DC adapter that you can buy separately.
Key Features:
⭐ 6-way power options
⭐ Comprehensive AM, FM coverage
⭐ Emergency mobile battery charger
⭐ Telescopic antenna extends up to 14.5″
⭐ Impact-resistant and water-resistant
Pros
Compact and lightweight
Charging via AC/DC outlet is an option
Full 7 NOAA bands available
Powerful emergency LED flashlight
Cons
Solar power is not sufficient and charging in a slow rate
2.
FosPower Emergency Radio
Emergency assistance is guaranteed with the FosPower Emergency Radio. It is designed for different purposes, including household emergencies and outdoor activities. You can power this emergency radio in three ways: solar, hand crank, and batteries. Cellphone charging is also available during blackouts with a 2000mAh capacity.
Key Features:
⭐ 2000mAh powerbank
⭐ 3 power sources (solar, hand crank and batteries)
⭐ SOS Alarm
⭐ 2 light sources
Pros
Include 3 power sources
LED flashlight and reading lamp
Very loud alarm
2000mAh powerbank
Cons
Some solar charging issues
3.
RunningSnail MD-088s Emergency Radio
The new RunningSnail MD-088s is an affordable emergency radio that is compact, tough, and, easy-to-use device. It has one of the brightest LED flashlights among all its competition. The 7 NOAA channels are made available to provide you the latest weather data, along with AM and FM channels to keep you informed.
Key Features:
⭐ Portable and compact
⭐ Direct cellphone charging via micro-USB cable
⭐ Powerful and bright LED flashlight
⭐ 3-way power source
⭐ Water-resistant to IPX3
Pros
Bright LED flashlight
Cellphone charging available during emergencies
Emergency flasher if you need rescuers to find you
45 days money back guarantee
Cons
Analog display only
There is no clock on this device
4. Greadio GR-002W Emergency Radio
Greadio GR-002W is an awesome device that has everything you need for camping or emergency situations. It's a pocket-size emergency radio that comes with an attached handle with clip so you can bring it anything without hassle. It has a 4-way power charging so it is always functional.
Key Features:
⭐ 4 charging options
⭐ 2 LED lights
⭐ SOS Alarm
⭐ 2000mAh powerbank capacity
⭐ AM/FM and NOAA Radio
Pros
Compact and portable
Bright flashlight and reading lamp
4-way power source
2000mAh powerbank capacity
SOS Alarm
5. American Red Cross Emergency Weather Radio
The Eton FRX3+ has the American Red Cross' name on it, so it must live up to some worthy expectations. It's a practical survival emergency weather radio that will keep you well informed, gives back-up power for your smartphone and provides light during emergencies and through the dark.
Key Features:
⭐ Good audio quality
⭐ Easy-to-adjust digital radio tuner
⭐ Up to 8.7x longer playback time
⭐ Receives all 7 NOAA weather bands
⭐ 2600mAh powerbank capacity
Pros
Easy-to-carry design
Headphone jack available
Large and ergonomic hand crank
Glow in the dark locator so you can easily find it
4-way power options
Cons
You have to crank harder to get enough power and make it function
 
Best Two-Way Emergency Radios
A two-way emergency radio, also called as a walkie talkie, is an extremely useful device not only for emergency situations, but also for work situations where mobile phones are not ideal, such as farms. We searched and found three outstanding two-way emergency radios in the market today.
1. BaoFeng BF-F8HP Dual Band Emergency Two-Way Radio
The BaoFeng BF-F8HP was designed in the USA. If you're looking for a seriously long-range two-way emergency radio, this is an ideal option. It offers professional-grade features, works with 128 channels, and it receives weather channels too. The BF-F8HP is compatible with an expanded range of UHF and VHF as well as walkie talkie frequencies. It also comes with a LED flashlight that is also very useful. The battery lasts up to 24 hours.
Check on Amazon
2. Motorola Talkabout T280 Rechargeable Two-Way Radio
With its always-on connectivity, the Motorola T280 is your family's best emergency device inside or outside the home. You can receive weather updates from 11 channels including 7 NOAA channels. Offers 22 channels and 121 privacy codes, making it easier to find an available channel. This two-way emergency radio features a backlit display, 20 call tones, talk confirmation tone, keypad lock, and low battery alert. You can get up to a mile range without obstructions.
3. Midland GXT1030VP4 Two-Way Emergency Radio
This waterproof(splash-resistant) two-way emergency radio has been a staple in two-way communication for quite some time. It is offering 22 channels plus 28 extra channels that provide clear and crisp communication with easy to access buttons. Gives you up to 3,124 channel options to quickly find available channels. The NOAA weather alert + scan locks up your location and keeps you updated. It also allows you to send out distress signals with it's SOS Siren feature.