Whatever your reason for looking at the best dehumidifier for garage, this article is for you.
Have you ever thought of the risk of fungus, mold, and mildew growth in your garage?  Left untreated, this leads to an accelerated rusting process of metal.  So, this can be harmful to a vehicle, if your cars are kept in your garage.
For this reason, we've compiled 5 of the best garage dehumidifiers for you to keep your vehicle in mint condition.  Not only your car, think of all the tools and other gadgets you have stored in your garage.
For those of you in a rush, here's our #1 recommendation right now, for a large-ish area.  The TOSOT 4,500 sq ft dehumidifier is affordable, energy-saving and provides exceptional performance!
Best Dehumidifiers for Your Garage
At a glance:
Last update on 2023-11-29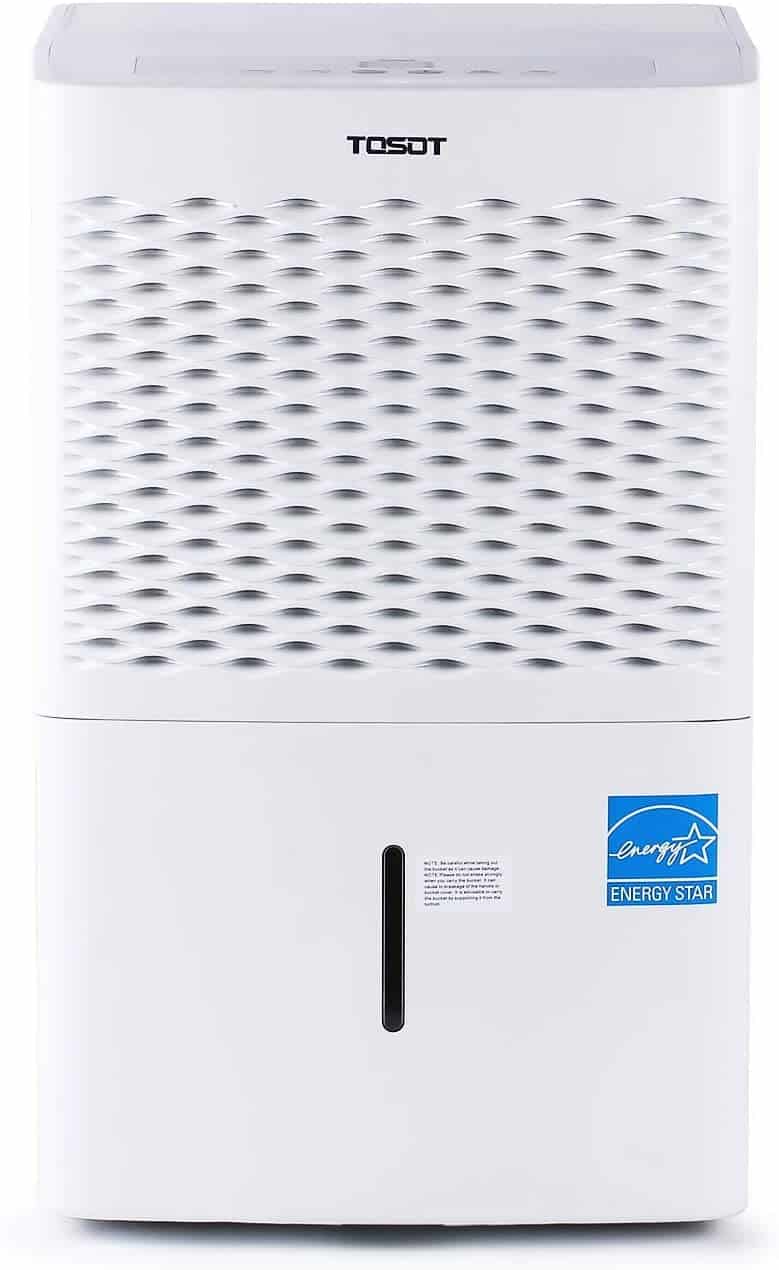 Performance
TOSOT is one of the leading & top-notch manufacturers of air conditioners and dehumidifiers. It is a trusted, reliable brand that ensures quality performance in its products.
With a 4,500 sq ft coverage area, the TOSOT dehumidifier tops our list of the best garage dehumidifiers for larger spaces. With the 50-pint extraction rate it provides this unit is ideal for drawing moisture from a large area.
However, we would've preferred that TOSOT kept its original rating of 70 pints in its previous model for an even larger capacity and extraction rate.
Drawback aside, we love the continuous drain option, Energy Star rating, and quiet operation it provides. The unit operates at a peak level of 50 decibels so is perfect for the bathroom, bedroom, or basement.
To use other dehumidifiers in your garage, you may need to empty the water out of the bucket regularly. However, with an internal pump, you can set the machine to automatically kick in when the bucket is almost full. This means there is no downtime when using the machine due to the bucket being full. Just spend a little extra for a hose and assign an area where the hose will run into.
If you buy the model under this one, there is no pump included and you will have to manually drain the bucket. We recommend you keep a reminder if using this method to prevent damaging your dehumidifier long term.
Thanks to its Energy Star rating, not only is it efficient, but it also helps save on electricity costs. Think about it. With garage dehumidifiers often running 24 hours a day it can add a hefty cost to your utility bill.
Design
Design-wise, the TOSOT garage dehumidifiers come with easy to set and operate electronic controls. Choose a target humidity level and the unit will switch off once that level is reached.
For continuous use regardless of the humidity level, that is also easy to set. The machine will run until the bucket collecting the water is full – which is never if you have the unit with an internal pump.
TOSOT dehumidifiers for garages and homes include easy-to-clean filters and a light indicator to signify when they need cleaning.
With 250 hours of continuous use, before cleaning is recommended, they truly are efficient dehumidifiers. Furthermore, its power outage restart feature is a lifesaver in the event of any electrical interruption or blackout.
Once the power comes back, your humidity settings will remain the same.
Pros
Covers 4,500 square feet
Easy operation and setup
50 pints extraction rate
Continuous drain option
Easy to clean
Energy Star rating
Power outage restart feature
Operates at 51 dB
Cons
You have to spend extra on the hose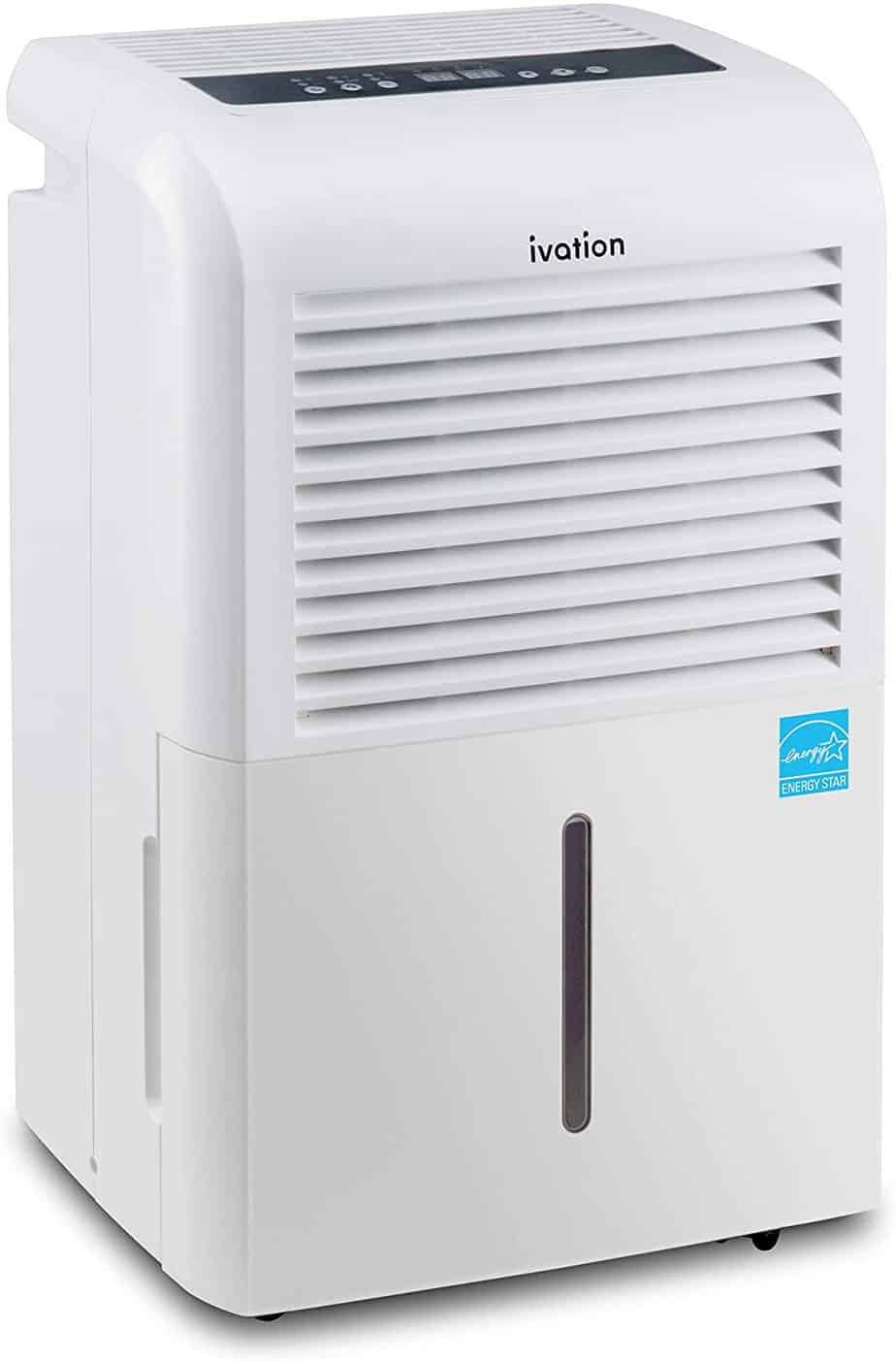 Performance
You'll have to pay a little extra to get your hands on one of the Ivation 4,500 square feet garage dehumidifiers. However, we promise the most value in return for your money.
With a performance of 70 pints per day, it deserves to be on our list of garage dehumidifiers for the largest areas. The lowest measure a dehumidifier can store is 30 pints, while 70 pints are rated as the highest performance. (Note here that the Department of Energy standards means this is classified as a 50-pint, even though it holds 70 pints – go figure!!)
You might think that high-performing dehumidifiers would also spell trouble for utility costs. However, this 70-pint dehumidifier comes with an Energy Star rating for practical and energy-saving operations.
The Ivation 4,500 sq ft garage dehumidifiers come with a filtration system. Not only does this boost air quality by enhancing the filtration of mildew & allergens, it is also very effective at removing moisture.
Design
Just like the TOSOT dehumidifier, Ivation also provides a continuous drain option. This nifty machine includes a pump so you don't have to spend extra, and can remove moisture easily out of your garage.
Even if you wanted to drain the water bucket manually, Ivation made sure to include a 2.25-gallon water tank. This means you don't have to drain the water frequently.
Last but not least, the variety of features offered is truly where Ivation shines. It comes with an auto-defrost feature and LED display for controlling fan speed and humidity levels. It will even let you know when the filter needs to be changed.
At under $300, you get high-quality performance, a large coverage area and a wide range of features. We consider the Ivation 4,500 square foot garage dehumidifiers to be a steal for the price.
Pros
Great price value
70 pints extraction rate
Energy Star rating
Filtration system for enhanced air quality
Large water tank capacity
Auto-defrost feature
Continuous drain operation
Easy operation
Auto shut-off and re-start
Cons
The power cord is quite short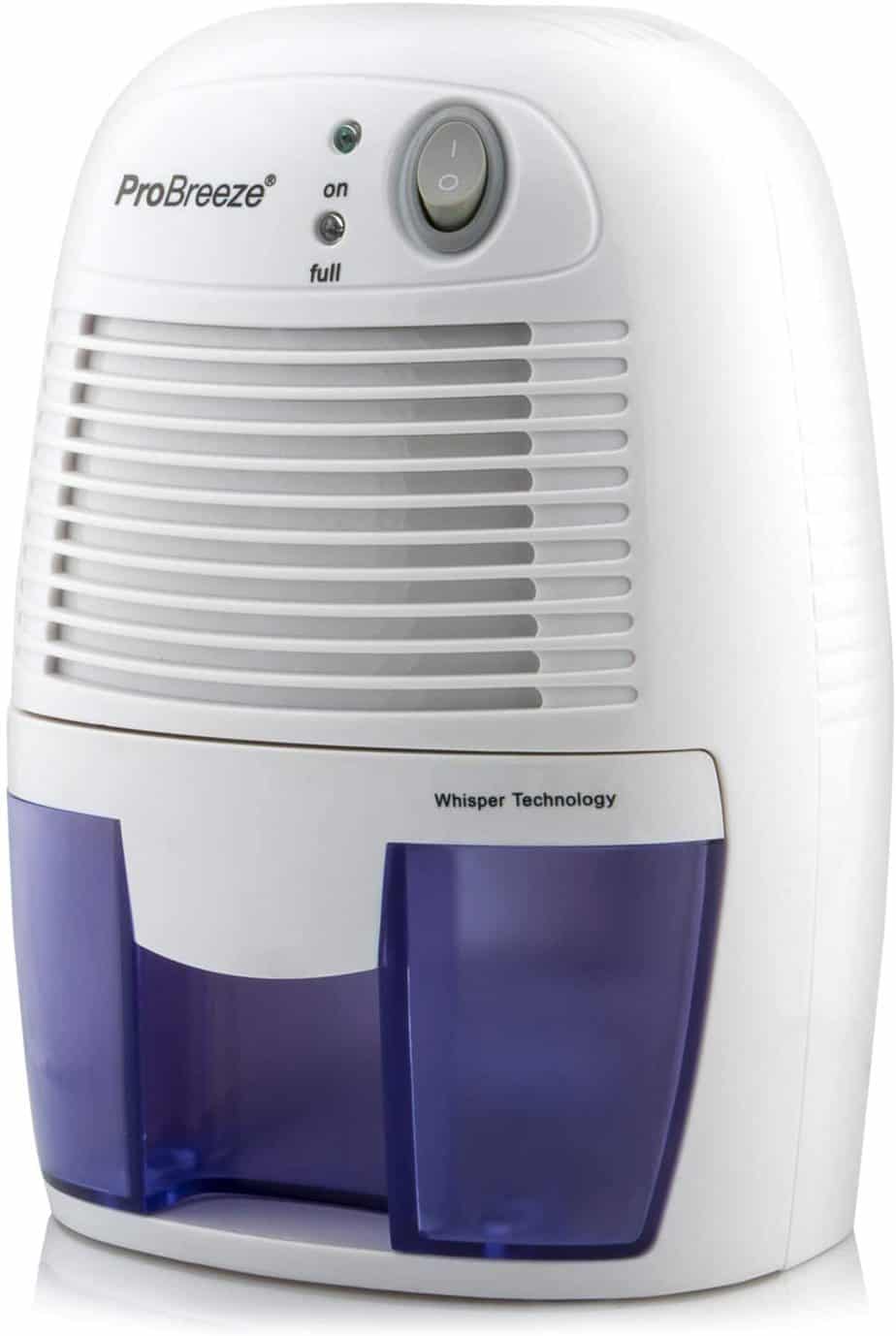 Performance
For a smaller garage, the Pro Breeze would suit you perfectly.
The Pro Breeze Electric garage dehumidifiers are ideal for covering areas between 220 to 250 square feet. A compact unit is ideal for your workshop, small garage, caravan, bathroom, or basement!
Despite its compact frame, the Pro Breeze comes with an 18 oz water tank, meaning it efficiently reduces moisture by one pint per day. Not bad for a mini dehumidifier. As the unit can draw 9 oz/day this means only emptying the water tank every 2-3 days.
This efficiency is also ideal if you want to remove fungus, and mold and prevent mildew growth. Even better, you can leave the Pro Breeze Electric dehumidifier to run for three days without having to drain the water tank.
Combine this with Pro Breeze's Thermo-Electric Cooling technology, and you get a quiet operation that won't disturb you or your guests while it's running.
Design
The Pro Breeze is simple and straightforward to use. There are no complicated features to worry about, although it doesn't come with a continuous drain option.
As much as manually draining your water tank might seem like a chore, the Pro Breeze doesn't make that an issue. The tank is situated at the base of the unit and pulls out for easy emptying.
It also comes with an auto-shutoff feature to prevent overfilling or leaking issues.
The only drawback is it requires heavy maintenance if your garage has high humidity levels. It's also not ideal for areas with temperatures below 59 oF.
Nevertheless, the excellent energy efficiency, affordable price tag, and dehumidification performance make the Pro Breeze ideal for any small space.
Pros
Excellent energy efficiency
Budget-friendly
The auto-shutoff feature prevents leaking
Quiet operation
User friendly
Suitable for a smaller garage and space
Great dehumidification performance
Cons
Not ideal in areas with temperatures below 59 F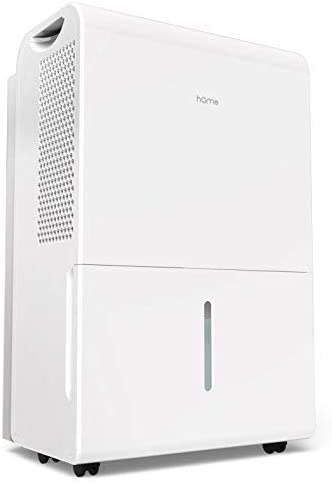 Performance
Compared to Frigidaire and TOSOT, hOmeLabs is a newcomer to the market in garage dehumidifiers. So, how does it compare in quality to the top brands? Let's find out!
The hOmeLabs Energy Star dehumidifier provides a low-capacity water tank holding 1.8 gallons.
HOmeLabs can extract up to 35 pints of moisture per day and come in a range of sizes. With 4 models to choose from, the hOmeLabs 3,000 sq ft is ideal for areas up to 4,000 square feet. Above this space, we recommend using the 4,500 sq ft model which is also available with a built-in pump for continuous use.
These sleek and compact garage dehumidifiers work perfectly in spaces between 2,500 to 4,000 square feet. Using it in any smaller area may cause too much heat and they won't work with evaporative cooling.
We love the customizable humidity settings and its easy operation feature. Super quiet when in operation they are perfect garage dehumidifiers but also terrific in cellars, basements, or large rooms.
Despite its large capacity and high power, it's highly efficient, hence the Energy Star rating. No need to worry about huge utility bills!
Expect this 70-pint dehumidifier to run for a full 24-hour timeframe. It will automatically shut off when the tank is full to avoid overflow.
Furthermore, it also features a continuous drain option with a hose outlet included. However, you have to buy the hose separately, sad to say.
Design
If there's one feature that stood out with the hOmeLabs Energy Star dehumidifier, it's their turbo mode setting.
This allows you to increase the fan speed from 165 CFM (cubic feet/minute) to 188 CFM for maximum odor and moisture removal.
We also like how hOmeLabs added wheels and handles for improved portability should you decide to use it in a room apart from your garage.
However, hOmeLabs' water tank capacity is relatively small. For high-humidity areas, this may require frequent draining of the water tank. That being said, just purchase a hose and connect it to the unit for continuous drain operation.
This newcomer in garage dehumidifiers will give some of the more established brands a run for their money.
Pros
35-pint extraction rate/day
70-pint capacity
Large coverage area
Energy-efficient
Portable
Customizable humidity settings and fan speed
Ideal for a larger garage
Super quiet
Continuous drainage by adding a hose
Cons
The hose must be purchased separately
Water tank capacity is quite low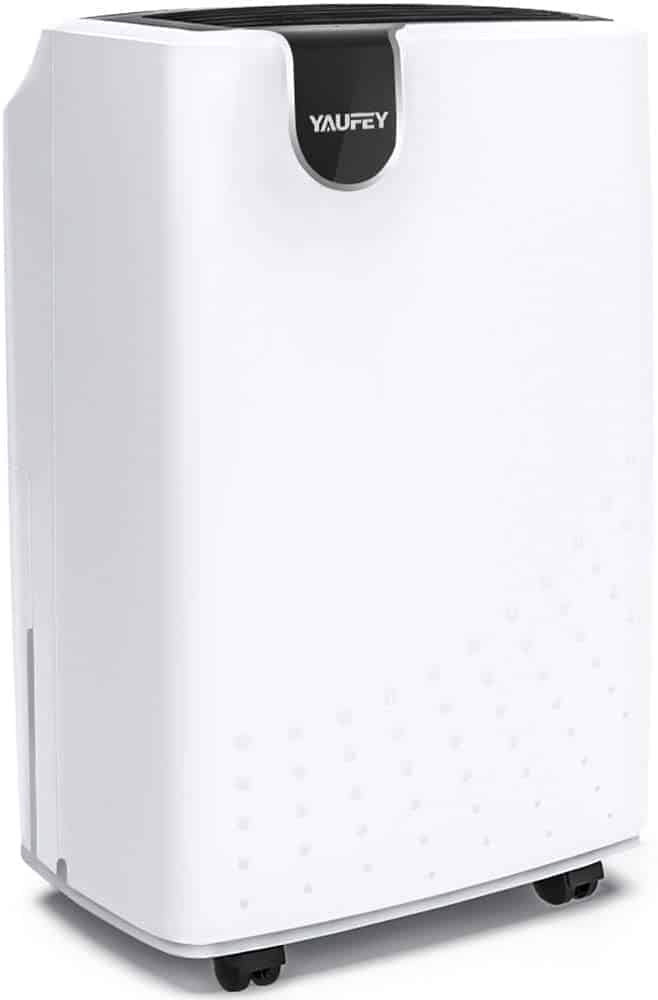 Performance
If you're looking for garage dehumidifiers ideal for medium-sized spaces around 1,500 sq ft, Yaufey fits this description perfectly.
Capable of removing up to 4 gallons or 32 pints of moisture per day, it's excellent for both performance and price.
In fact, the Yaufey dehumidifier is just as budget-friendly as the Pro Breeze and provides a larger capacity.
A 1.8L water tank isn't that great, however, Yaufey made sure to include a continuous drain option and a 2-meter hose. By setting this up you don't have to worry about manually draining the water tank.
It's also worth mentioning the high number of positive reviews Yaufey has received. This is despite being less renowned or popular as leading dehumidifier brands such as TOSOT or Frigidaire.
This compact and sleek unit is ideal for the bedroom, bathroom, basement or a dehumidifier for your garage.
Design
Like the hOmeLabs dehumidifier, Yaufey also has customizable fan settings for efficient and effective removal of moisture, mold and mildew.
Additionally, it features an auto-defrost function, power outage restart ability and low-fan noise for a quiet operation.
Finally, the Yaufey dehumidifier also comes with a handle and built-in wheels for improved portability. If you think about it, this unit has a fair combination of features from most of the garage dehumidifiers mentioned in our list.
At under $200, the Yaufey dehumidifier is perfect for the budget conscious.
Pros
Budget-friendly
Auto-defrost feature
Power outage restart function
Continuous drain option with hose included
Ideal for a medium-sized garage (1,500 sq ft)
Customizable fan settings
Decent energy-efficiency
Cons
Some units were defective in the past
How To Choose The Best Dehumidifiers For Garage
Even with 5 of the best garage dehumidifier models available, it can be confusing to choose the ideal dehumidifier for your garage.
For this reason, we've used this section to talk about crucial elements in the design and performance of dehumidifiers. This will allow you to gauge which of these elements suit your needs best.
Choosing the best garage dehumidifiers will depend on 5 elements:
We'll discuss each element in-depth and provide you with the best recommendations per element.
Performance of Garage Dehumidifiers
The performance of each dehumidifier varies depending on its extraction rate. The extraction rate pertains to the ability of your dehumidifier to pull moisture from the air.
A good quality dehumidifier should remove moisture from the air sufficiently along with regulating the humidity levels.
One way to measure the performance of dehumidifiers is through pints. Throughout the review, we mentioned a handful of pint measurements, such as 50 pints, 70 pints, 30 pints, etc.
You'll find various garage dehumidifiers that offer either 30 pints, 40 pints, 50 pints or 70-pint ratings. The number also indicates the amount of moisture from the air it can remove in a 24-hour timeframe.
For example, a 50-pint dehumidifier can remove up to 50 pints of moisture from the air per day. On the other hand, a 70-pint dehumidifier can remove up to 70 pints per day.
How to Choose a Dehumidifier Based on Performance
Go for a 30-pint dehumidifier if you have a smaller garage, while a 50 or 70-pint dehumidifier works for a larger garage.
It's worth noting that the pint rating influences the efficiency of your dehumidifier. This means that if you use a 30-pint dehumidifier for a large garage, it wouldn't efficiently regulate the humidity.
Likewise, a 70-pint dehumidifier wouldn't work best for a smaller garage since this may lead to causing too much heat or waste a lot of energy.
Make sure you are aware of the size before researching the best garage dehumidifiers for you.
Capacity & Drainage
The capacity of your garage dehumidifiers goes hand-in-hand with drainage capability and dehumidification performance.
Dehumidifiers will typically show the square footage on the product label or manufacturer's website. It's absolutely vital you make sure to check the square footage or capacity before choosing the best dehumidifier for your garage.
The capacity tells you how much space your dehumidifier can cover. To effectively regulate humidity and pull moisture from the air, your dehumidifier should be able to cover the square footage of your garage adequately.
For example, a 3,000 or 4,000 sq ft dehumidifier works best for a larger garage, while a 1,500 sq ft dehumidifier works best for a medium-sized garage.
As for the drainage capabilities, this refers to the option of having a continuous drain hose or automatic shutoff features. Mostly, these relate to your convenience and ease of maintenance.
How to Choose a Dehumidifier Based on Capacity & Drainage
We recommend getting an accurate measurement or square footage of your garage and match this with the dehumidifier. This will provide the appropriate coverage area.
A 3,000 to 4,000 sq ft dehumidifier should be adequate for a 3,000 to 4,000 sq ft garage. Smaller garage dehumidifiers can cover up to 200 feet only, so make sure your garage measures around the same dimensions.
We don't recommend "eye-balling" the square footage of your garage. If your garage measures 1,500 sq ft and you get a 3,000 sq ft unit, it will be less efficient and costly on your part.
This is what makes choosing dehumidifiers tricky. However, for optimal humidity regulation and pulling moisture from the air, it helps to select the right measurements.
As for drainage capabilities, it's always best to choose a unit with a continuous drain hose and automatic shutoff features.
Without it, your unit could experience overfilling or leaking. Apart from that, you have to manually drain your water reservoir. This is time-consuming and can be challenging if you're out on a trip and want to keep your vehicle well-protected.
Extra Features (Adjustable Settings, Portability, & Warranty)
Extra features are all about convenience, usability, and user-friendliness. Adjustable settings pertain mostly to changing the humidity or setting the preferred humidity in your garage.
Not only will this save you energy, but it also helps you achieve optimal regulation and effectively pulling moisture in the air.
Portability and warranty coverage are features that are preferred but not as necessary.
Garage dehumidifiers you can easily move around are useful, especially if you buy a large unit. Some units may also come defective, which means that warranty coverage can be beneficial for cases like these.
How to Choose Garage Dehumidifiers Based on Extra Features
A dehumidifier that provides adjustable settings for fan speed and humidity is an excellent pick. If the unit doesn't have any, try to get a unit that accurately matches the appropriate capacity and dehumidification performance.
Nowadays, most dehumidifiers will come with adjustable settings and are also quite affordable.
We recommend choosing a unit with built-in wheels and handles if you have plans to use this dehumidifier for other areas in your home. Suppose you plan to buy a large or heavy unit, opting for built-in wheels and handles that suit you better.
On the other hand, trusted brands such as Frigidaire, TOSOT, hOmeLabs, Ivation, and Yaufey all come with warranty coverage.
When choosing the best dehumidifier for the garage, it's always best to go for trusted, quality brands. Not only will this ensure good warranty coverage but also reliable quality overall.
Sound Level of Dehumidifier for Garage
Even though your dehumidifier will mostly be stored in your garage, considering the sound level or noise operation of your unit is a vital element.
Some dehumidifiers operate too loud that it can be irritating after continuous use. This is especially true for dehumidifiers with a higher pint rating.
Since dehumidifiers operate through compressors, this is usually the source of the noise. However, not all dehumidifiers with a large pint size mean a noisy operation.
Some manufacturers will consider different factors and use different components leading to a quiet operation.
One example would be the Pro Breeze Electric dehumidifier, which runs on a Thermo-Electric Cooling technology instead of a compressor.
How to Choose a Dehumidifier Based on Sound Level
It's best to always ask for the dB or decibel rating of the unit before buying one, which you can find on the manufacturer's label or website.
Don't expect to find a unit that's ultra-quiet, either. Any machine will always produce some audible noise, and it's nearly impossible to find a completely quiet unit.
Dehumidifiers with a rating between 40 to 70 dB should be pretty quiet and more than adequate for satisfying adequate noise levels.
Temperature
Furthermore, it would help if you considered the temperature of your garage. Garages with temperatures of 59 oF shouldn't pose a problem.
However, if the temperature of your garage drops below 59 oF, you should consider a dehumidifier with an auto-defrost feature.
How to Choose a Dehumidifier Based on Temperature
Getting a unit with an auto-defrost feature will remove any frost build-up, which is essential to your compressor's health and effectiveness in reducing moisture in the air.
The Best Dehumidifier For Garage
The best garage dehumidifier should prioritize dehumidification performance and capacity above all.
Choosing the appropriate pint size and capacity significantly affects how effective your dehumidifier will be able to pull moisture in the air and regulate humidity.
To get the best results for effectively removing mold, fungus, and mildew, along with protecting your vehicle at all costs, these two elements, pint-size and capacity, should be essential elements to look out for first.
For example, if your garage measures 3,500 sq ft, an ideal dehumidifier would be a unit with 50 pints at the very least, 4,000 sq ft coverage, and preferably with adjustable settings and an Energy Star rating to save on energy costs.
A more concrete example would be our top three picks mentioned in this review:
The TOSOT 4,500 sq ft is the best of the garage dehumidifiers as it covers all the essential elements discussed in the previous section.
It's also worth mentioning that the TOSOT dehumidifier is quite affordable considering the features it comes with. However, we also understand that the TOSOT may not be for everyone.
For this reason, we recommend this dehumidifier if you're looking for a price-friendly unit with excellent dehumidification performance, energy-saving & quiet operation, and a fairly large garage.
The Ivation 4,500 sq ft dehumidifier is another one of our best dehumidifiers for garage spaces.
You might have to spend a little more compared to the TOSOT but it comes with some outstanding features. You get an auto-defrost feature, a 70-pint size for the largest garage space, an Energy Star rating, and a hose for continuous drain operation.
Unlike the TOSOT 4,500 sq ft dehumidifier, you'll have to buy a separate hose, and it has quite a short power cord.
We highly recommend the Ivation 4,500 sq ft as one of the best garage dehumidifiers for spaces up to 4,500 sq ft. A large water tank and top-notch filtration system will reduce mildew and mold in any room.
The Pro Breeze Electric is the best garage dehumidifier for those with smaller garage spaces. Even though the Pro Breeze can only cover 220 to 250 square feet, its efficiency is also the highest on our list.
Compared to a 50-pint dehumidifier, the Pro Breeze provides higher energy-saving costs and quieter operation.
The best part? It's a lot cheaper than buying a 70 or 50-pint dehumidifier.
The hOmeLabs brand is fairly new to the market of garage dehumidifiers but with an Energy Star, its efficiency is undeniable.
With only a 1.8-gallon water tank capacity you will have to keep your eye on the machine unless you connect a hose. You will have to purchase the hose separately and attach it yourself but then you can run this machine 24/7.
A "turbo mode" setting allows for faster drying if required which most other models don't have.
The hOmeLabs Energy Star garage dehumidifiers are worth looking into if you have a large space to dry out.
With a price comparable to the Pro Breeze, and much greater capacity, the Yaufey garage dehumidifiers are worth the investment.
A smaller capacity water tank is not ideal however, the unit comes with a 2-metre hose. Hook this up to the unit and make the most of the continuous drain option.
This is the only unit in our review of garage dehumidifiers that includes a hose, although most have an in-built outlet.
Worth looking further into, the only negative we could find was some reviews where the units were defective.
Conclusion
We hope this review was able to help you choose the best dehumidifier for your garage!  As far as premium quality and performance go, always be sure to choose a dehumidifier that suits your needs.
Don't choose a dehumidifier simply based on what the label says or because all your friends have the same one.  Ultimately, as the end-user, the best garage dehumidifiers are those that satisfy most, if not all, of your needs.
At Weather Stationary we love all things "weather" so, if you enjoyed this article why not leave a comment?
Read more of our weather station reviews such as The Best Solar-Powered Weather Stations.
Or check out some other weather instruments in Best Acurite Rain Gauge For Home In 2021