A bamboo garden can transform your environment into a secluded nook with a tropical feel.  Tall bamboo plants create a natural privacy screen, whilst growing bamboo in water can make your yard feel like an island oasis.
The thought of a yard full of bamboo can make some gardeners want to run for the hills as certain bamboo varieties can be invasive.  They can end up taking over your yard and crowding out native plants.
However, that's no reason to avoid bamboo planting.  With the right knowledge, tools, and experience, you too, can create a beautiful bamboo garden right in your own backyard!
We've put together a full guide to growing and maintaining your own bamboo backyard.  And, for those of you with little time, we've condensed a quick guide at the start too!
Quick Guide To Create And Maintain Your Bamboo Garden
Getting started with bamboo doesn't need to be a huge task.  If you're new to the plant, here are some quick facts you need to know!
Bamboo doesn't come from the tree family, it's actually a type of grass. There are nearly 500 different species of bamboo, split into two main types – running and clumping bamboo.
Running bamboo is likely to be the type you want for a backyard.  It's characterized by a long stem with a tidy amount of leaves at the top.
Clumping bamboo can become wild and uncontrolled very easily – looking more like a bush than the tall quaint plants we're used to seeing!
You don't need to be somewhere hot to grow bamboo.  With species such as Yellow Grove and Panda, bamboo is not only able to survive but can flourish below 0 degrees Fahrenheit.
Bamboo (especially running bamboo) is super easy to maintain.  By incorporating a good schedule of watering, fertilizing, and thinning you can easily create a perfect bamboo backyard that your friends and neighbors will envy.
Top 3 Bamboo Backyard Products
Whether you're just starting to plant, or you've got a full bamboo backyard to maintain, check out some of the top-rated tools for keeping your bamboo in top condition!
Last update on 2023-10-01
Depending on your type of Bamboo, root spread can be both invasive and potentially dangerous. This 60mm DeepRoot will stop any roots from spreading where you don't want them, protecting your entire garden!
TaborTools offers a long-range, high-power lopper, perfect for keeping your bamboo perfectly thinned and trimmed! Don't let overgrowth ruin your perfect garden.
If you want tall, healthy bamboo, try the Green Green fertilizer. Just a few drops will promote the growth of all flowers and plants and is perfect for bamboo varieties.
Our Detailed Guide To Creating And Maintaining A Bamboo Garden
If you've mastered our quick guide and want some thorough knowledge of creating and maintaining amazing bamboo, jump into our detailed guide below!
Bamboo Garden 101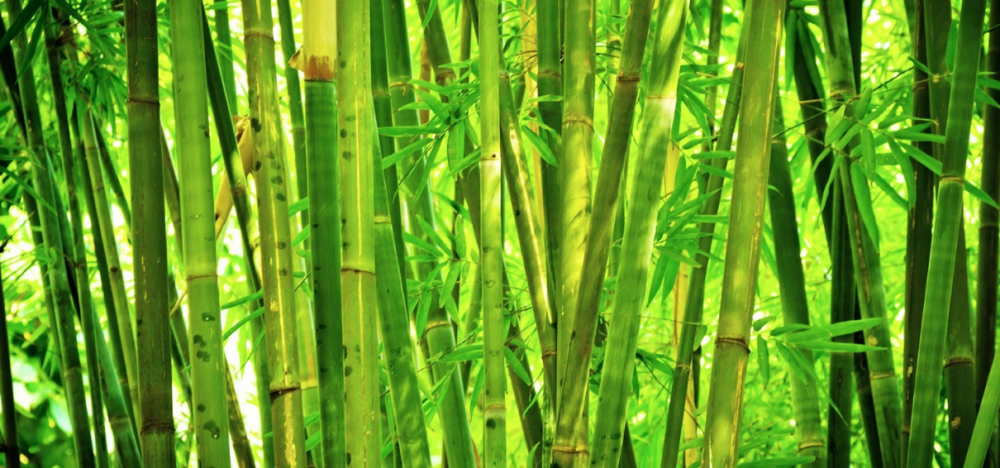 Bamboo trees are actually not trees at all; bamboo is a type of grass. Native bamboo plants grow prolifically in South and Central America and Asia.
However, many people don't realize that some species of bamboo are native to the U.S.  Science Daily reports that the newest species of North American bamboo was discovered in the Appalachian Mountains of North Carolina in this century. This grass acts like a bamboo tree, dropping its leaves in the fall. Other bamboo species have their own unique characteristics.
Bamboo trees are actually not trees at all; bamboo is a type of grass.
 The Spruce explains that one of the easiest ways to identify different types of bamboo is by its reproductive tendencies. Let's take a look at the two main types: Clumping and Running.
Clumping Bamboo
Clumping bamboo is the less invasive version of the plant. In other words, this is the type of bamboo that politely stays where you plant it – it's the bamboo you want!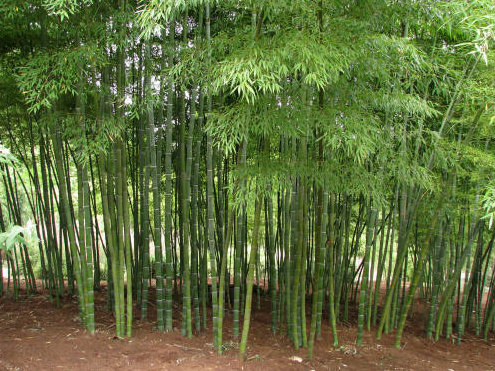 Clumping bamboo is a slow spreader so it only requires little maintenance. Bamboo Garden says that the roots develop in a U-shape. Underground, the buds will turn upward, creating new shoots next to the existing ones.
They'll only spread outward a few inches each year, but they'll gain about 1 to 2 feet in height.
Running Bamboo
Running bamboo is the unrestrained party animal of the species. It won't stay put! Running bamboo expands by sending out rhizomes. This horizontal root system allows the plant to spread quickly.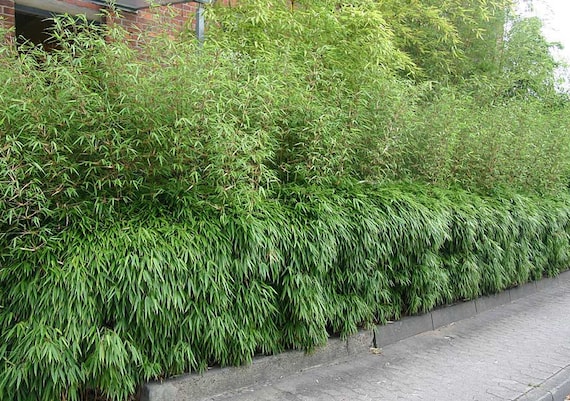 Running bamboo is considered to be incredibly invasive. You will want to avoid planting this type of bamboo, especially if you don't want dirty looks from your neighbors.
Running bamboo grows 3 to 5 feet every year but, of course, with its invasive nature, it can spread just as far, if not further, horizontally.
Can I Grow A Bamboo Garden?
You don't need to live in a tropical rainforest to grow and create a bamboo backyard.  Mother Earth News says that most bamboo types grow well in the southern United States, along the Gulf Coast from Georgia to Texas, and on the West Coast. However, many people grow the ornamental variety throughout the entire country.
What Type Of Bamboo Should You Buy? 
The type of bamboo that you plant depends on, your climate, where you'll be planting the bamboo, and how you want it to look.
The American Bamboo Society has compiled a chart of more than 490 kinds of bamboo.
When you find a plant that you might want to grow in your garden, you can cross-reference it with one of these. The table lists the botanical names as well as the common names that you might see in a catalog.
According to Bamboo Inspiration, the hardiest varieties of clumping bamboo are Thamnocalamus and Fargesia, also known as Panda bamboo.
SF Gate says that the way to find the best type of bamboo for your region is to pinpoint the lowest winter temperature.  Keep an eye on the temperature in your area with a weather station to accurately know the weather patterns in your area. 
It can be a real bummer to see the bamboo that you planted in the summer die off because it couldn't handle your cold winters.  Use other weather gadgets to help you purchase the ideal plants for your environment. One instrument that you will need is a top Rain Gauge.
This tool allows you to measure the rainfall amounts and know how much water you are using for your bamboo backyard – here are some of our favorites!
Last update on 2023-10-01
Bamboo Plants for Cold Climates
Yellow Groove bamboo – Can survive temperatures of -5 degrees Fahrenheit.
Panda bamboo – Can withstand temperatures as cold as -25 degrees Fahrenheit.
Bissetii Dwarf bamboo – Flourishes in zones that see winter temperatures of -10 degrees Fahrenheit.
Blue Fountain bamboo – Hardy to temperatures of -20 degrees Fahrenheit.
Chinese Timber Bamboo – This impressive bamboo grows to 35 to 70 feet and survives temperatures as low as -5 degrees Fahrenheit.
Bamboo Plants for Warm Climates
Thamnocalamus tessellatus – Recommended for zones 7 through 9, high winds, and sunny spots. Leaves show damage at temperatures below 12 degrees Fahrenheit. Grows to 12 to 15 feet.
Bambusa multiplex – Grows best in zones 8 through 11 and grows in semi-shade. Doesn't thrive in temperatures below 15 degrees Fahrenheit. Grows to 14 to 16 feet.
Golden Goddess – Hardy in zones 8 through 10 and enjoys partial to full sun. Grows to 6 to 8 feet tall and canes are slender and graceful.
Black bamboo – Recommended from zones 7 through 10 and hardy to 5 degrees Fahrenheit. Grows to about 25 feet tall. Culms turn black within about three years.
Bamboo Garden Design Ideas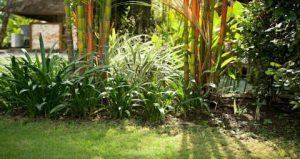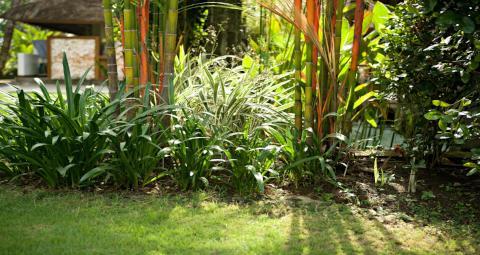 Asian landscaping relies heavily on bamboo in the backyard for privacy and interest. Bamboo landscaping is convenient because you don't need a lot of plants to fill an area. Fast-growing bamboo fills in the spaces of even large backyards within a few years. Therefore, it's the perfect plant for people who love a beautiful garden but don't want to do a lot of work.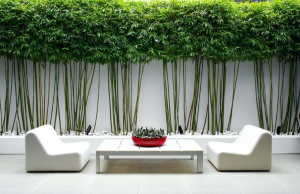 Creating A Bamboo Sanctuary
What's more luxurious than relaxing in a sanctuary surrounded by giant bamboo? Plant a grove, and then cut a path through the center to give yourself a refuge from the chaos of daily life.  According to Bamboo Botanicals, Chinese Timber bamboo is ideal for creating a grove.  Just make sure that you have a large enough property to support its spreading behavior.
Using Bamboo As A Hedge 
You can make your yard stand out from your neighbors' properties by using bamboo instead of traditional hedge plants.  Bamboo hedges should have low leaves that branch out of the canes.  Bambusa multiplex is also called Hedge bamboo for its ability to create a leafy border. Golden Goddess can also be pruned in a way to create your hedge shape.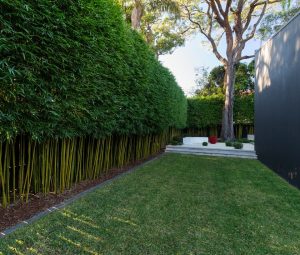 Prune bamboo hedges once a year. Shape them every spring or summer, when the culms have reached full height. Once the plant has matured, cut new growth at ground level if you start to see that it's thicker than the existing growth. This will help you maintain a shapely hedge. If you really want to play around with your garden, treat your bamboo like a topiary, snipping it into unique shapes.
Bamboo Bushes
The same type of bamboo that works well as a hedge can make beautiful bushes. In colder climates, bamboo bushes are grown as ornamental grass and cut down in the winter. Use a bamboo bush to anchor a garden or provide a backdrop for a koi pond.
Small Bamboo Plants
If you're just stumbling into the world of bamboo growing, you might be more comfortable buying bamboo plants for indoor use.  Dengarden explains that Dracena sanderiana, or Lucky bamboo, can even bring you good fortune. How's that for getting started on the right foot with bamboo gardening? Although it's not a true bamboo plant, it has the same exotic style. Lucky bamboo is easy to grow in potting soil or a vase of pebbles.
Other plants that look like bamboo can be grown in containers. The Bamboo Palm has stripes on the stems that look like bamboo nodes, according to BigPlants. Buying bamboo for containers is just like purchasing it for your garden. You'll need to understand the amount of water and sunlight that will be available to choose the right type.
How tall can bamboo grow in a container? That also depends on the species.  Bamboo Botanicals says that running bamboo shoots up more quickly. However, it will also get root-bound sooner than clumping bamboo that's planted in a pot.
Creating A Bamboo Fence
A living fence can shield your property from prying eyes. Running bamboo creates a more traditional screen than clumping bamboo. However, if you don't create an underground barrier to prevent this plant from spreading, you'll probably need more than a bamboo fence to keep your neighbors from giving you the evil eye.
How To Plant Bamboo 
You can purchase bare-root or container bamboo. Bare-root bamboo tends to be less expensive, according to HGTV, and you can order it online. It should be planted as soon as it arrives. Bare-root bamboo will come with a few stalks attached to a clump of roots.
Steps For Planting Bare-Root Bamboo:
Dig a hole big enough to accommodate the entire mass.
Loosen the soil at the base of the hole, and fill it with manure or compost.
Put the root ball in the hole, making sure that the soil marks on the bamboo stalks are at ground level.
Hold the bamboo upright as you gently work the loose soil into and around the roots.
Add loamy garden soil to the hole, layering it with water.
When the soil has reached ground level, pack it gently between the bamboo stalks. Firm it down, and water it again.
Planting Bamboo From Containers
Choose bamboo with large roots that are cramped in the container.  SFGate says that these are the best bamboo plants if you want fast growth.
Dig a hole that will hold the root ball. Make sure that the top of the root ball will be level with the ground after planting.
Water the bamboo frequently. Check out the section on how to take care of bamboo for more information about watering.
Installing Barriers For Running Bamboo 
If you're wondering how to grow bamboo without letting it spread into your patio, pool, or neighbor's yard, you'll need to know how to create a rhizome barrier. According to Landscape Advisor, you can use high-density polyethylene to prevent bamboo roots from running. Dig a trench that's as deep as the barrier is wide. Allow the barrier to sticking up a few inches above the surface of the soil. Check the ground periodically for wayward rhizomes, and pull them out or cut them back if you find them spreading.
How To Care For Bamboo Garden
Do you have a black thumb? Bamboo will make you look like a gardening expert. Bamboo plant care is relatively easy, and you reap great rewards from its impressive looks.
Watering Bamboo Garden
Caring for bamboo involves some intensive TLC when plants are new, but you can sit back and relax under their exotic canes as they mature. Water bamboo seedlings frequently after planting to support their rapid growth. You'll need to water young bamboo plants three to four times a week in hot or windy weather and twice a week when it's mild.
If your plant would fit in a 5-gallon pot, give it half a gallon of water each time you water it. Give a larger plant one gallon of water.
Bamboo shouldn't sit in a boggy area. Overwatering and flooding can be just as dangerous to new plants as dehydrated soil.
Fertilizing Bamboo Garden
To keep your bamboo looking attractive, fertilize it two or three times a year. Because bamboo is grass, the best fertilizer for bamboo is high-nitrogen lawn food. 
Bamboo Garden recommends applying bamboo food once in early spring and again in the summer.
Thinning Bamboo Garden
Bamboo plant care involves thinning it out as needed. We've already discussed how to prune bamboo into hedges or topiaries. You can also thin out running and clumping types of bamboo plants to give them an airy appearance. All you have to do is cut down the stalks that are getting in the way of your perfect view.
Any dead, weak or unsightly culms should be cut at ground level. Thin your bamboo in the fall, when it's not actively growing.
One of the best things about growing bamboo is that you can use mature canes for DIY projects around the home and garden. After removing older growth, use it to build a bamboo trellis, a fence, or garden hoops. People with large bamboo groves cut giant bamboo into smaller pieces to use as borders, picture frames, and building materials. If nothing else, a bamboo backyard will help spark your creativity.
Technology Gadgets For Your Bamboo Garden
Rain, sun, and wind can affect your bamboo backyard, especially when it's in the early stages. You don't have to guess what the weather is going to do when you have data at your fingertips.
A weather station tells you the temperature, humidity, wind speed, and rainfall, making it easy for you to decide whether it's time to water or fertilize your plants.
Use a portable wind meter to determine if strong breezes necessitate more frequent watering and a simple rain gauge to determine the amount of rainfall.
"0">
Thick bamboo can be difficult to cut down. According to Houzz forum, you can use a fine-toothed saw, lopping pruner, hand pruner, or reciprocating saw to thin bamboo.
Now that you know all there is to know about bamboo gardening, where can you find a bamboo plant for sale? 
Many online garden supply stores sell bare-root bamboo plants. You might even find potted bamboo at a local nursery.
Be wary of trying to grow bamboo from seeds as it's really tough to do.  Lewis Bamboo explains that nurseries may only see a few sprouts after planting thousands of seeds.
If you want a successful bamboo garden in your backyard, you must plan it out carefully.  Once the plants are set, you won't have to do much more than water them and enjoy the natural opulence that they bring to your yard.