Although the iPhone comes with a basic weather app that forecasts conditional changes, sometimes, it is not enough.  You may want to find the best weather app for iPhone to be ahead of the crowd.
An app for beginners may be a good option, but having the perfect weather app that can predict the weather in real time is a gift on your iPhone. 
Checking live weather updates on your iPhone with a clear display and accurate data is a blessing in itself.  However, for those who rely heavily on weather changes, it is essential.  For instance, a farmer who works every day in the fields needs to get first-hand information about the weather to make individual decisions.
A weather app that comes pre-installed on the iPhone is free, but do not expect great data from everything available on the App Store.  Many apps on the App Store appear free, however, a little payment is required to get the most relevant data. 
We have taken our time and researched the best weather app for iPhone that you can download. 
1 of 10: Dark Sky – Best Weather App for iPhone Overall
Dark Sky is one of the most renowned apps of the Apple Store that is pro in delivering minute-by-minute weather updates.
The app uses its weather service that ensures accurate weather information for the day.  It comes with an excellent interface that lets the users get the best experience.  Along with it, Dark Sky sends alerts to users in case there is a weather emergency.
Dark Sky is indeed the best weather app for the iPhone; however, the app will cost you about $3.99, making it a little expensive option.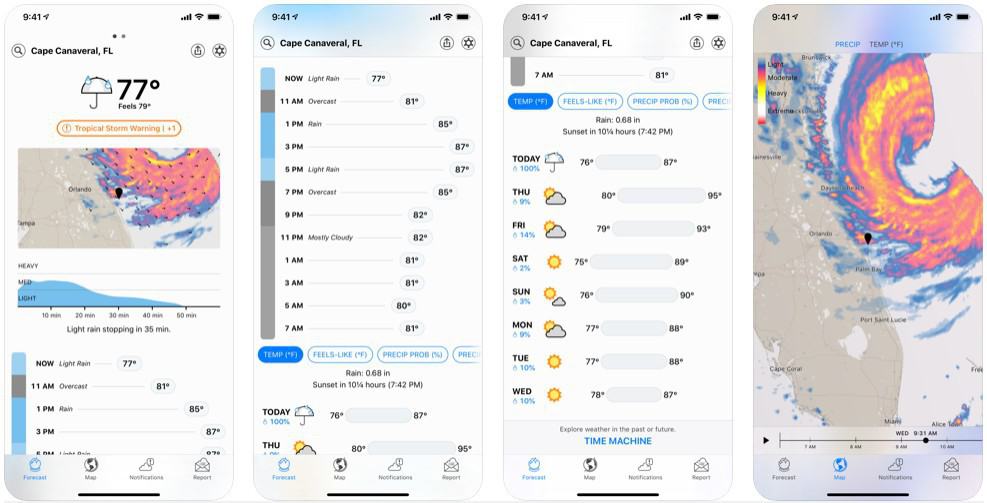 Dark Sky is the first name that comes first on anyone's mind as the best weather app. It is a must-have in your iPhone.
It's impossible not to mention Weather Channel when you are writing a review on the best weather apps.
Even though this app has a simple interface, it will still give out such detailed information about weather changes.
The Weather Channel is one of the best local weather apps that shows hourly, daily and 15-days weather predictions. It also indicates forecast to inform users about recent weather uptakes.
You can download Weather Channel for free with ads.  If you want to remove these ads, just make an in-app purchase of $4.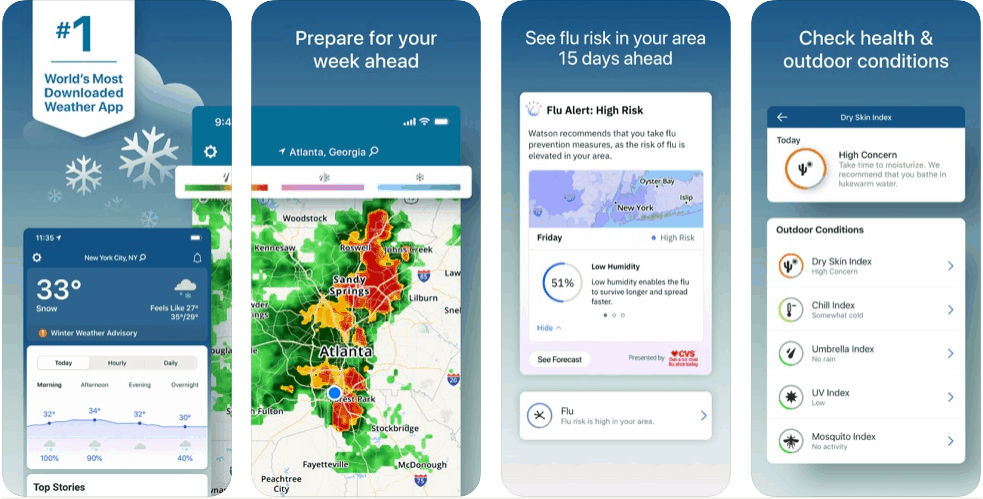 The Weather Channel is a good app, but considering such standard features, $4 is a lot for the app. It would be one of the best weather apps only if it was free or for $1 only.
Coming directly from the National Weather Service, what else anyone would want for accurate weather predictions?
NOAA is not available in the Apple Store, but you can get NOAA shortcut on your smartphone without any hassle.  Just visit weather.gov and add the shortcut, it shows the most accurate weather alerts and is free!
Also, check out Weather Live from Apalon that offers a weather tracker right in your palm.
A map is integrated into the app that predicts National Weather Service alerts, warnings, and watches on the device. This weather app is a hub of perfect weather predictions. The app is free with some in-app purchases.
Do check it out!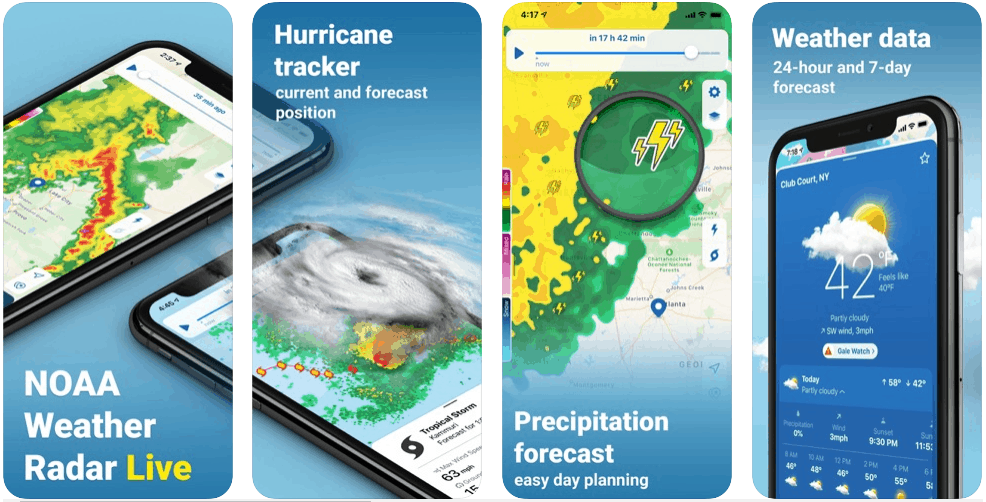 NOAA is the most trustworthy app, but it does not have much of an eye-pleasing interface. Although you can download Apalon's version of NOAA weather updates that will require some in-app purchases.
4 of 10: Yahoo Weather – Free with no Ads
Are you looking for the best free weather app for the iPhone?  Yahoo Weather is the answer for you.
It has an incredible design, and Yahoo weather app shows great weather predictions, but with some limitations.
Note, that Yahoo weather app is ad-free, so you do not have to worry about wasting your time on ads anymore.
Yahoo weather app is free, so enjoy using it.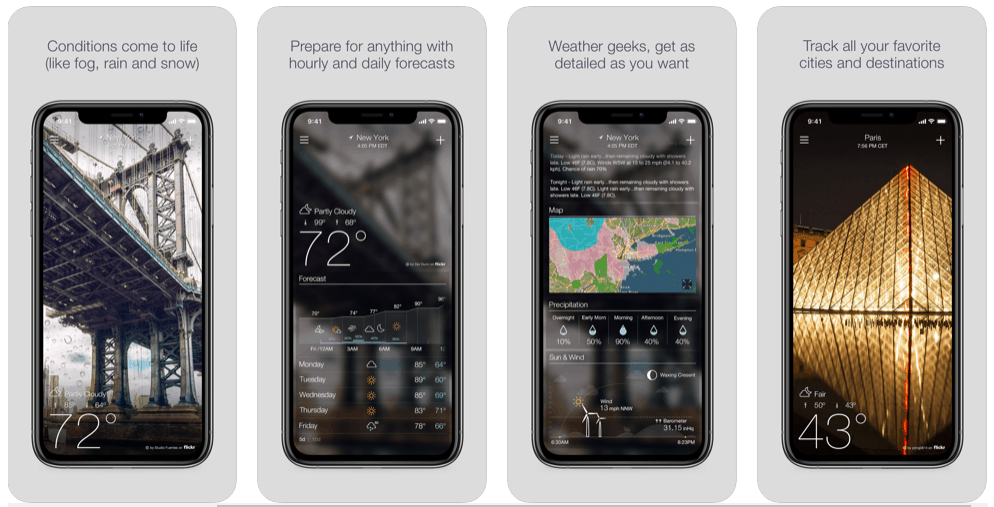 Yahoo Weather is the best app that anyone can use on their iPhone. Its beautiful design is a must-check for everyone.
5 of 10: Storm Radar – Emergency Alerts
Storm Radar is the best severe weather app for both iPhone and Android users, built by The Weather Channel.
You can know exactly where a storm is, thanks to the fantastic and detailed weather information predicted by the app. See the whole forecast on your fingertips from where the storm is moving to and how it is moving.
Download this premium weather app free of cost from the App store, but it will come with ads. It takes only $1 to make the app ad-free.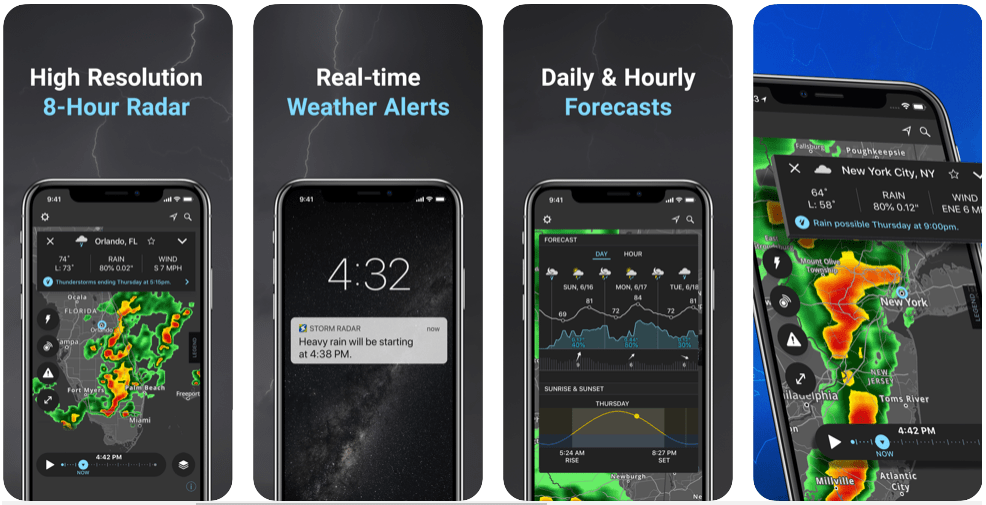 Good app to get quick information about the hurricane coming your way. If you live in an area where storms are frequent, then this app will be good for you.
6 of 10: MyRadar – Weather Radar
My Radar is a great yet simple weather app that shows extraordinary information about the weather around you.
Get instant updates about the changing weather conditions with the help of an animated live radar.  The app is not free and costs about $24.95 for iPhone users.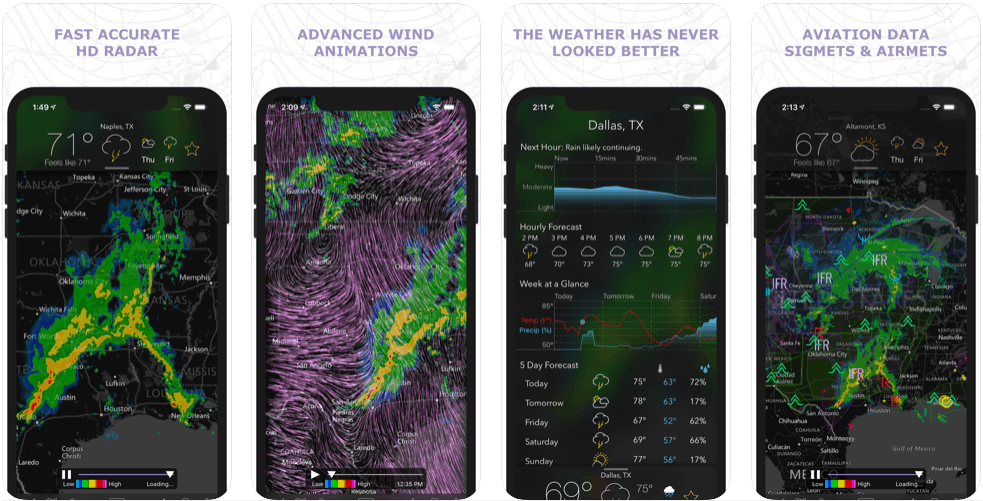 Try out this app only if you understand how radar works. Paying so much for something you do not know about is a waste of money!
7 of 10: Haze – Beautifully Designed
Among the best-designed weather apps such as Solar, Dark Sky & others – Haze stands amongst the top.
Haze is a beautifull designed weather app for iPhone that shows a 5-day forecast along with information related to rain, temperature and others.
If you are looking for the best audiovisual experience, then Haze is undoubtedly the best option for you. It is a standard app with no extraordinary features, but it is still enough to get maximum information on the weather.
Haze is not free, but you can get the app on your iPhone at a minimal cost of $0.99.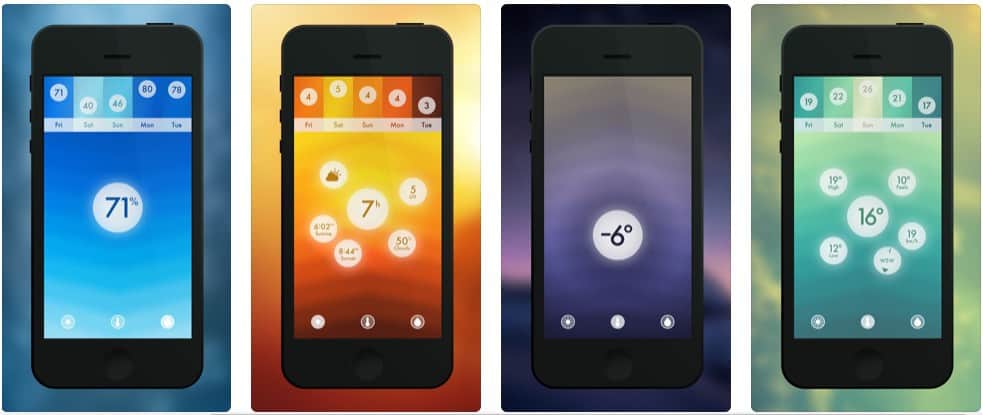 Haze is a good option if you want something colorful and attractive, but not adequate for intense weather updates.
8 of 10: iOS Native App – Best for Screen Lock or as a Widget
If you want a free weather app with no ads whatsoever, then Apple's native app is an excellent option to consider.
Apple's built-in weather app comes with an appealing widget that shows weather predictions for every hour of the day.  This app takes data from The Weather Channel and does not have a live weather radar to give accurate predictions.
Note, that iOS native app is the best weather widget that you can get on your iPhone.  Despite some lacks in the app, it is still one of the best weather apps for the iPhone.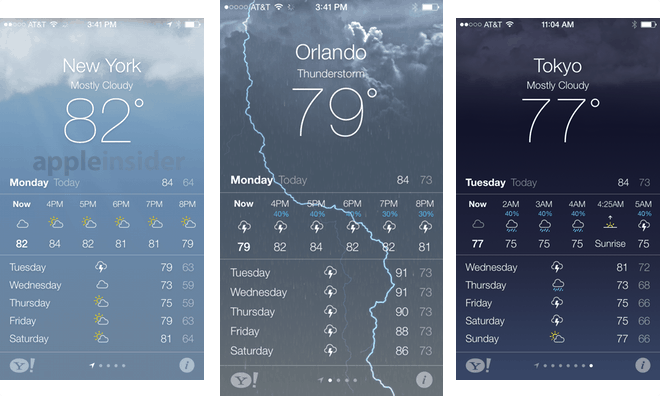 Best for regular weather updates, but don't expect more from the app.
9 of 10: RadarScope – Best for Advanced Users & Weather Enthusiasts
Are you a serious weather enthusiast?  If you are, then the RadarScope will be the best investment you will make.
It is the best-paid weather app for iPhone that comes with detailed information about weather updates.
Rating this app, the most accurate weather app would not be wrong.  If you want a powerful weather tracking app on your iPhone, then the RadarScope is the best option for you. 
You can download this app for $9.99 with further in-app purchases.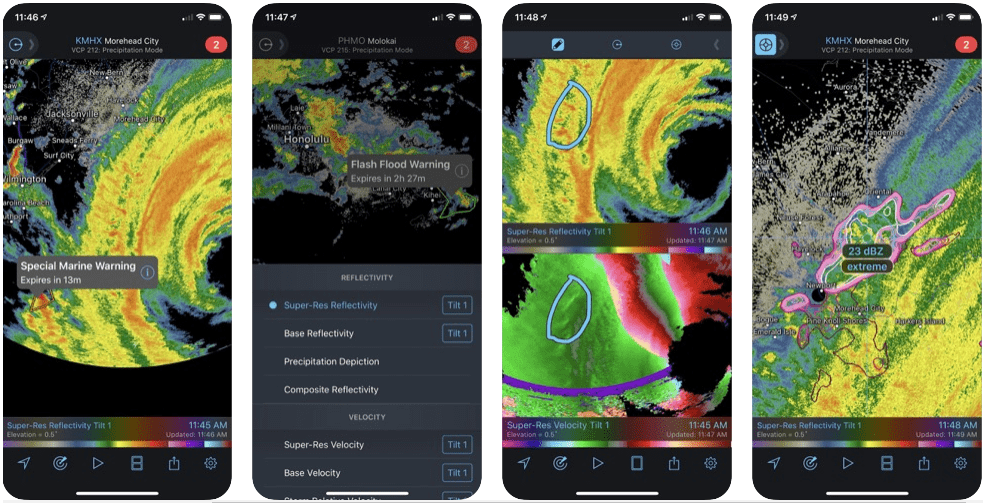 Only buy this app if you know what is Coefficient, velocity. The app is not for beginners.
Do you like to go out for a run or a walk? What time will be the best for it?
Many questions come to your mind when considering the weather. Air Quality gives the best weather app alerts about the air quality outside.
This app also indicates air pollution levels for every hour with this app.  The app is free for iPhone with no ads.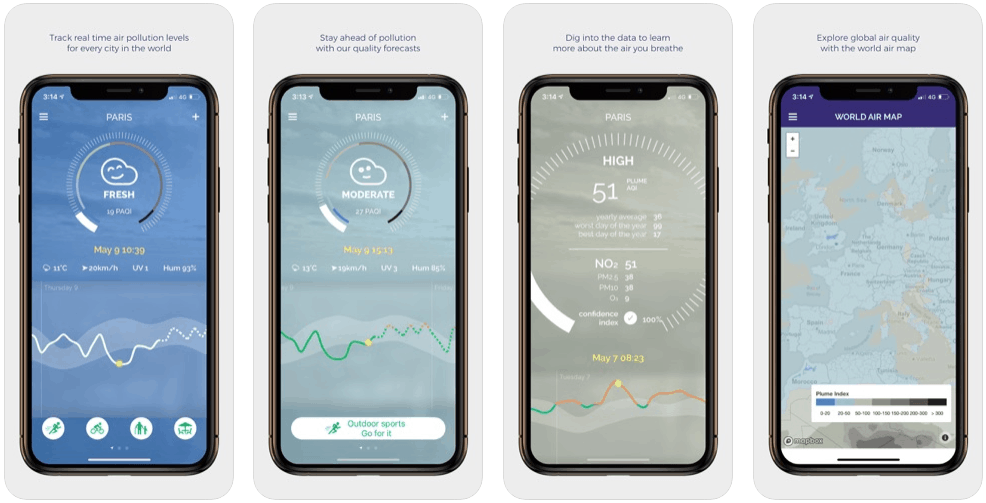 If you love going out every day, then you can avoid bad weather days with this update. Best for regular use.