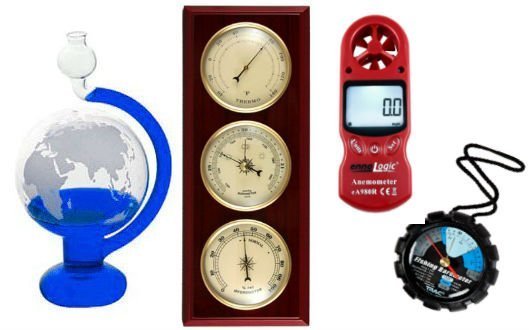 DISCLOSURE: THIS POST MAY CONTAIN AFFILIATE LINKS WHERE WE GET A COMMISSION IF YOU DECIDE TO MAKE A PURCHASE THROUGH THESE LINKS, AT NO ADDITIONAL COST TO YOU.
If you're a sufferer of barometric pressure headache, you know it is tough to deal with. And in spite of a large number of weather-sensitive individuals, nobody can still explain the exact reason why changes in weather cause these headaches. So what's the best you can do about headaches caused by barometric pressure? Keep track of weather changes by having a barometer at home. Below are the top gadgets to measure barometric pressure.
Globe Barometer Glass (Measure Barometric Pressure)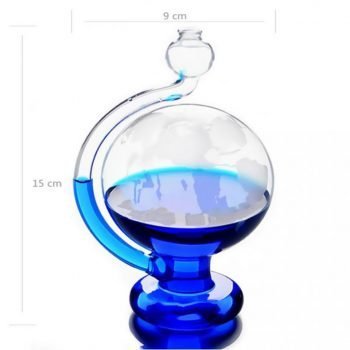 This Globe Barometer Glass is a simple and straightforward gadget to measure barometric pressure. All you have to do is add a colored distilled water, and it is good to go. Changes in barometric pressure can be observed in the level of water in its spout.
Low water level indicates "High Pressure" which means fair weather, while High water level indicates "Low Pressure" which means bad weather.
Specifications
Height
5.9"
Material
Glass
Design
Globe with world
map etching
Inclusions
Drip cup
Here's how to fill your Globe Barometer Glass
Measure Barometric Pressure with Ambient Weather WS-YG315
This exquisitely handcrafted weather instrument from Ambient Weather measure barometric pressure, temperature, and humidity. It's a traditional piece that makes excellent decorative art for a library, beautiful study, office or fine-scale restaurant.
For an accurate barometric reading, it is highly advisable to lightly tap the glass near the center brass to overcome any friction that may affect accuracy, especially during slow air pressure changes. For barometer calibration kindly check the  Ambient Weather WS-YG315 Manual.
| Specifications | |
| --- | --- |
| Dimensions | 12.5" x 5" x 1.5" |
| Dials | 2.5" Diameter |
| Materials | Wood base w/ lacquer cherry finish, Glass bezels |
| Note | Barometer only operates to 3,000'. Do not order if you live above 3,000 ft. |
AcuRite 02008A1
The AcuRite 02008A1 is a wireless weather station that measure barometric pressure. This weather station has a digital LCD colored display where it shows the current barometric pressure, temperature, humidity, date, and time.
This weather station also keeps track of the barometric activity for a selected period. It's Barometric Pressure History Chart displays a graph of the historical barometric pressure changes.
| Specifications | |
| --- | --- |
| Dimensions | 8" x 7" x 3" |
| Design | Tabletop of wall mounted |
| Wireless Range | 330 ft. |
| Inclusions | Digital weather station display, wireless Temperature and Humidity Sensor, tabletop stand, AC power adapter, instruction manual |
Related Article: Barometric Pressure Headaches: Symptoms,Treatment and Prevention
ennoLogic eA980R
The ennoLogic eA980R is a handheld feature-loaded anemometer that's perfect for sports-minded people. Although it is mainly built to measure wind speed, it's also a great gadget to measure barometric pressure, and again, it's portable. You can measure eight weather values in one handy device.
| Specifications | |
| --- | --- |
| Dimensions | 4.3" x 1.8" x 0.8" |
| Weight | 2.1 oz |
| Barometric Pressure Limit | 0.29 to 32.48 inHg, ±0.05 inHg |
| Inclusions | unit, carrying case, lanyard, LIR2032 battery, and user manual |
Download manual HERE.
Trac Fishing Barometer
The Trac Fishing Barometer is ideal for tracking pressure for fishing success; however, this is also a great gadget to bring with you anywhere to monitor barometric pressure. It has a color-coded dial which indicates typical weather conditions for tremendous or poor fishing. This gadget is easy to calibrate for local barometric pressure.
| Specifications | |
| --- | --- |
| Dimensions | 4" x 1.8" x 5" |
| Weight | 1.2 lbs |
| Material | Sure-grip ABS plastic housing, braided lanyard |
| Model | T3002 |