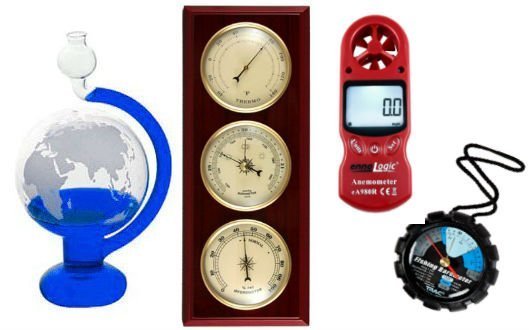 If you're a sufferer of barometric pressure headache, you know it is tough to deal with. And in spite of a large number of weather-sensitive individuals, nobody can still explain the exact reason why changes in weather cause these headaches. So what's the best you can do about headaches caused by barometric pressure? Keep track of weather changes by having a barometer at home. Below are the top gadgets to measure barometric pressure.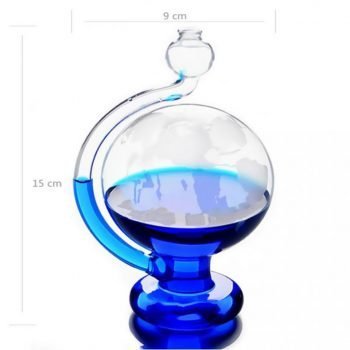 This Globe Barometer Glass is a simple and straightforward gadget to measure barometric pressure. All you have to do is add a colored distilled water, and it is good to go. Changes in barometric pressure can be observed in the level of water in its spout.
Low water level indicates "High Pressure" which means fair weather, while High water level indicates "Low Pressure" which means bad weather.
Along with being a barometer glass, it brings along many other perks as well. It's fancy and decorative which can contribute in a good way to your interior ambiance. Its round globe structure is very fascinating and it can be a center of attraction for your guests and homies. Also, it can be a very thoughtful and attractive gift to someone. Neither it's too expensive to put off the mood of buying, nor is it something that needs to be thrown away when it stops working – because it can still be used as a showpiece. 
The only thing that's missing in this product is glass-etching which would have added a lot of beauty to its look. We could also notice many questions on how this works – it uses a physics principle to determine the weather conditions. How? This device is basically a liquid barometer. It measures air pressure inside the liquid in the bottle to detect the weather conditions outside.
Specifications
Height
5.9"
Material
Glass
Design
Globe with world
map etching
Inclusions
Drip cup
It serves two in one purpose of decoration and detection of weather conditions at a very reasonable price. It gets delivered with two forecast bottles, one Blue water-soluble pigment, and one red pigment soluble pigment. If you are specifically looking for a liquid barometer, this would be a good choice.
Here's how to fill your Globe Barometer Glass
This exquisitely handcrafted weather instrument from Ambient Weather measures barometric pressure, temperature, and humidity. It's a traditional piece that makes excellent decorative art for a library, beautiful study, office or fine-scale restaurant.
For an accurate barometric reading, it is highly advisable to lightly tap the glass near the center brass to overcome any friction that may affect accuracy, especially during slow air pressure changes. For barometer calibration kindly check the  Ambient Weather WS-YG315 Manual.
To bring in variety, we didn't bring in all the liquid barometric pressure meter, because each and every one of us behold a different taste in what we really want in your home because it reflects a part of us. This is a Traditional Cherry Finish Dial which can go perfectly with the ambiance of your home, office, libraries, study room, an upscale restaurant and scientific or other kinds of laboratories. This is an old school high-class handcrafted traditional barometer which would be appreciated wherever gets placed. It comes with an assured warranty of 1 year and the wood-frame lightens up the look drastically. Its rich lacquer finish can be one tremendous center of attraction for your guests and homies. 
It detects temperature, pressure, and humidity. It comes with three barometric pressure gauge – each one representing a different factor. The first dial at the top is a thermometer that is used to measure temperature. However, it is not as accurate as the bulb thermometers used to measure the temperature of the body, but it works fine. The second barometric pressure gauge from the top is a Hygrometer which is used to measure humidity, It is often discussed that the humidity is not as much use as the temperature and other factors but it can be helpful for the detection of molds. High humidity leads to the growth of molds and the prior detection of which is a +1. Although the hygrometer almost takes an hour to reach the level of accuracy, it is still a lot more accurate than assumed. The third barometric pressure gauge at the bottom-most is of the Barometer – for which it falls into our category. It is an aneroid barometer that is used to measure air pressure which ultimately detects the weather conditions.
| Specifications | |
| --- | --- |
| Dimensions | 12.5" x 5" x 1.5" |
| Dials | 2.5" Diameter |
| Materials | Wood base w/ lacquer cherry finish, Glass bezels |
| Note | Barometer only operates to 3,000'. Do not order if you live above 3,000 ft. |
This antique design is one hell of a piece to carry your home. Its barometric pressure reader is the most accurate one among the three whereas the temperature may show different time to time from the actual temperature outside. We recommend this because it is one of the explicit showpieces with an excellent barometer.
The AcuRite 02008A1 is a wireless weather station that measures barometric pressure. This weather station has a digital LCD colored display where it shows the current barometric pressure, temperature, humidity, date, and time.
This weather station also keeps track of the barometric activity for a selected period. It's Barometric Pressure History Chart displays a graph of the historical barometric pressure changes.
This is one of the most expensive choices of barometric pressure monitors by us, but there are a number of reasons why is it worth its price tag. This is basically a color LED display weather station that shows forecast, temperature, humidity and barometric pressure along with Intelli-Time Clock-Full Colour in the Dark theme. We highly recommend this but it can put a dent in your wallet – but it's a one time dent for sure. This is durable and long-lasting which has every feature that you might be looking for in a device.
It can depict a precise indoor and outdoor temperature and weather conditions and it can easily replace your clocks on the walls. It generates self-calibrating forecasting every 12 to 24 hours. Its brightness can be easily adjusted and it is very easy to install.
| Specifications | |
| --- | --- |
| Dimensions | 8" x 7" x 3" |
| Design | Tabletop of wall mounted |
| Wireless Range | 330 ft. |
| Inclusions | Digital weather station display, wireless Temperature and Humidity Sensor, tabletop stand, AC power adapter, instruction manual |
This is a great device to buy – although quite expensive but it can easily replace your usual clocks and upgrade your decoration standards along with providing useful details of weather, temperature, and humidity. It's quite costly but it serves its purpose pretty well.
Related Article: Barometric Pressure Headaches: Symptoms, Treatment, and Prevention
The ennoLogic eA980R is a handheld feature-loaded anemometer that's perfect for sports-minded people. Although it is mainly built to measure wind speed, it's also a great gadget to measure barometric pressure, and again, it's portable. You can measure eight weather values in one handy device.
This is a pocket-sized anemometer also renowned as one of the best tools to measure air pressure that can also measure the wind speed, wind chill, air temperature, heat index, dew point, etc. It is even smaller than your cell phone and it is one of the most amazing portable devices to carry which can serve various purposes. Therefore, if you are looking for a portable and small device to measure barometric pressure, this can be the one. You can change the units of measurements as per your convenience.  
As the name suggests, it measures its 8 parameters without any fail. It's super easy to turn it off and on.
| Specifications | |
| --- | --- |
| Dimensions | 4.3" x 1.8" x 0.8" |
| Weight | 2.1 oz |
| Barometric Pressure Limit | 0.29 to 32.48 inHg, ±0.05 inHg |
| Inclusions | unit, carrying case, lanyard, LIR2032 battery, and user manual |
If you are looking for a portable device that can be easily carried to places, this can be the perfect one. It's remarkable that it comes with a 10-year warranty, although finding the battery can be a small issue.
Download manual HERE.
The Trac Fishing Barometer is ideal for tracking pressure for fishing success; however, this is also a great gadget to bring with you anywhere to monitor barometric pressure. It has a color-coded dial which indicates typical weather conditions for tremendous or poor fishing. This gadget is easy to calibrate for local barometric pressure.
The purpose of including this one to benefit the fish lovers, because if you want to return homes with a big fish, you need to take care of the barometric pressure to be successful. And therefore, to reduce the disappointment caused to fishermen, this is one of the best barometric pressure instruments available. Talking about its specialty, it is very waterproof and ready to be taken near the sea, rivers, lakes, ponds and all the wet areas. It can easily withstand the splashing of water over it, and it still stands straight to help you with the fishing. Although we will never recommend you to use it roughly or to submerge it into the water, in case of accidental drowning, it beholds a special aperture which allows this device to float. Thanks to the design, you won't lose it when in a boat – you'll have a chance to retrieve it easily. 
This is the best anemometer among all the similar products best suitable for fishing because of its color display and segmented zones which makes it pretty sorted and ready to use. Its certain level of pressure represents whether it is a good or bad time for fishing which can be a great help to catch maximum fish in the minimum time limit. Although, try not to sway your boat too far from the current point for best results.
| Specifications | |
| --- | --- |
| Dimensions | 4" x 1.8" x 5" |
| Weight | 1.2 lbs |
| Material | Sure-grip ABS plastic housing, braided lanyard |
| Model | T3002 |
This is one of the amazing devices suitable for fishing specifically. It is pocket-friendly and worth carrying for fishing.
Final Words:
There are a number of devices available in the market to measure barometric pressure, and all of them can be used for different purposes successfully as per the available budget. Don't compromise with what you pay, choose the best one wisely.