Do you want to teach children about the weather? Here are some fun weather activities for children to try out.
The weather is a fascinating subject. Sunny one minute, pouring rain the next. 
Once, on a bright sunny evening, we were playing out in the yard when it hailed suddenly.  No sooner did we run back into the house, when it stopped and went back to being a sunny day.  The hail might have stopped, but oh was there a downpour of questions!  The children were very curious. They wanted to know the "what, why, and how' of the incident. Seizing the moment, we decided to teach our children about the weather.  
Here's how we did it:
5 Weather Activities for Children
Every child has a unique learning style. While some learn by reading, others explore and learn through experimentation. With these simple weather activities for children, you can make the learning process fun and interesting for the kids.
Weather Books To Teach Children About The Weather
My first tool for educating kids is always a book. Maybe it's the fun of looking through bright colorful pictures or having the story read out in funny voices, but books can always intrigue and activate a child's imagination.
The best part- there are books for all ages.  Start with a simple book or an engaging story about the weather and gradually progress.  There are more challenging and informative weather books such as a National geographic book. Try this, if you want to read more weather books together with your kids.
Last update on 2023-10-01
Introduce children to the different symbols of weather. Once you've taught kids the different weather symbols, here are some activities that you can try out:
Watch your local weather forecast and ask them the meaning of the different symbols seen. See who guesses the most number of symbols.

Similarly, listen to a weather forecast. As the commentator is describing or forecasting the weather, have the children summarize it using weather symbols.

Find the weather forecast for the day by deciphering the weather symbol clue.
Weather Calendars or Journals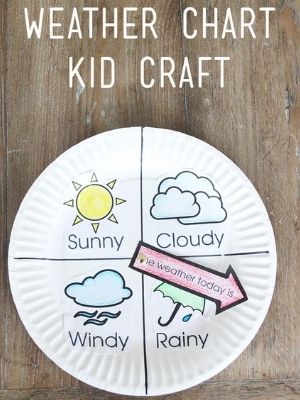 Bring out your child's inner meteorologist, by teaching them to track the weather on a calendar. Each day your child can record if the day was sunny, cloudy, rainy, or snowing.  At the end of the week, ask them to analyze their data and create a weekly weather report. 
Older kids can track the weather hourly or within specific time blocks. This makes the activity more challenging for them. Ask them to record their observations, and compare them with your local weather forecast to check for accuracy. 
For smaller children, consider making a weatherboard. This circular board can be divided into areas, with each area depicting different weather conditions. Decorate the area with pictures symbolic of it.  For example, an umbrella or rain boots for rainy weather or a cap for sunny weather. Attach a movable arrow to the board. Every day your child can spin and point the arrow in the direction of the appropriate weather.
Weather Experiments To Teach Children About The Weather
A hands-on experiment is often the best way to teach children a thing or two about the weather.  You could help your kids make their own tornadoes in a bottle, rain clouds, or clouds in a jar.  Even making snow or your own static electricity lightning will help them understand how it all happens.  As with all experiments, be sure to assist or supervise as necessary.
DIY Weather Tools Are Great Activities For Children
To encourage active learning about the weather, teach kids how to read and record the components that make up the weather.  These include measuring temperature, checking the wind speed or direction, and even measuring rainfall. 
This can be done by making your own weather tools.  For example, teach kids to use a mercury thermometer carefully to record the external and internal temperature. Make your own wind vane, anemometer, and rainfall gauge, using simple crafts and recyclable materials found at home. 
You can even set up a mini weather station in your backyard and help kids observe, record, and analyze the weather. 
When teaching kids about the weather, remember to keep it simple, fun, and interactive, and that's exactly what these weather activities do.  They introduce new concepts, words and help to expand your child's understanding of the weather using an active learning approach.
Remember that weather for kids should be fun and educational and that any activities you do should broaden children's understanding of weather and climate and incorporate new weather words for children to learn.