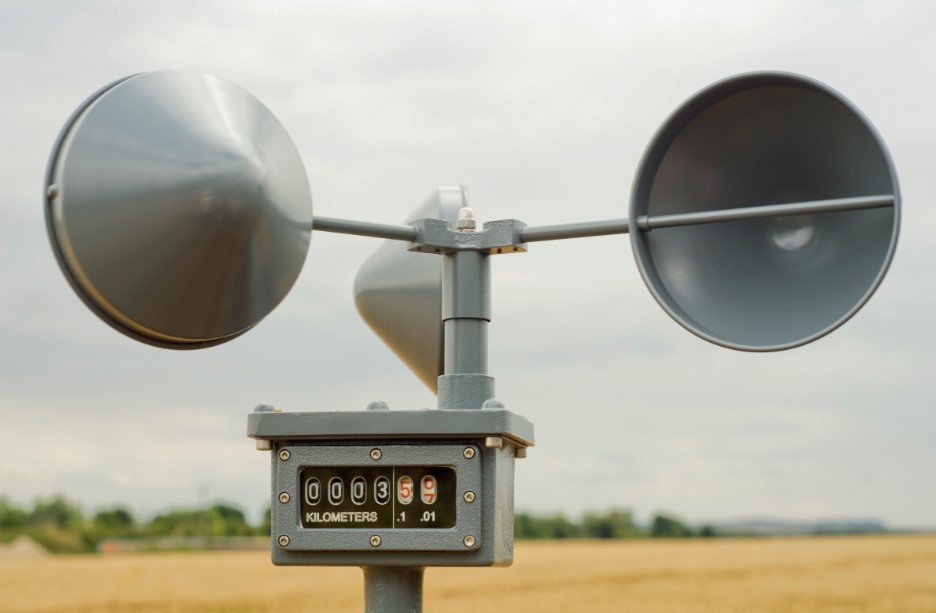 Last updated May 2020
If you're looking for recommendations for cup and/or pole mounted anemometers (pole mounted anemometers almost always use cups), then you're in the right place!
Want to skip straight to the product recommendations? Click here 👇
What Is A Cup Anemometer?
Well, taking a step back, 'anemometer' comes from the Greek word anemos, which means wind. It's a device used to measure wind speed and is commonly used in meteorology.
A cup anemometer, therefore, is simply a type of anemometer. They're known for being particularly accurate, measuring wind by counting the number of turns or rotations as the air flows. The faster the wind speed, the higher the number of rotations will be.
Invented in the 19th century, they are still widely used today. Both by hobbyists such as myself, and by professionals. Three cup anemometers are an accepted industry standard for a lot of wind-based studies.
What Should I Consider When Buying A Cup Anemometer?
I'm glad you asked. Let's think about some of the factors to consider.
Firstly, how many cups does it have? You'll find anemometers with 2, 3, or 4 cups. If you read up on Wikipedia (no need, I've done it for you), you'll learn that the 3-cup anemometer was specifically designed for accuracy. No need to go into the details here, but basically, if you're looking for something as accurate as possible, go for 3 cups.
Where will you be using it? Does it need to be portable? Some anemometers will be handheld & easily portable, while others… might still be portable-ish, but are more intended to be mounted on a pole or a vehicle etc.
What is your budget? An obvious one, but let's not forget about it. When buying an anemometer, you'll find quite a range of prices. Think about the features that you actually need. I've shown a wireless weather station with a bunch of bells and whistles in this article which I love, but if you're on a tight budget, it's probably overkill.
Best Cup Anemometers: Our Recommendations
So, without further ado, let's get into our recommendations for the top cup anemometers you can buy online!
Magnetic Mount Anemometer Wind Meter by Inspeed
This digital cup anemometer with dual display is designed specifically for storm chasers. The wind sensor registers speeds of over 125 mph and the magnetic mount allows you to monitor the wind from inside your vehicle. It now comes with a metal cup rotor for increased durability.
While it is particularly suited as a vehicle-mounted anemometer, the powerful magnetic base really works with any metal surface. The product comes with a 25-ft cable too, which is great for checking wind speeds without going outside!
Details and updated pricing found from Amazon 👇
Last update on 2020-05-02
Pole Mount Anemometer by Inspeed
Another product by Inspeed, but I couldn't leave this one out of an article about the best cup anemometers, really…
This sturdy cup anemometer with dual digital display handles reads wind speed from 5 up to 150+ mph. It's a great option when you're planning to fix it in one spot, perhaps at home (vs. the previous magnetic one for on-to-go, maybe). The Pole Mount anemometer by Inspeed is portable and can function where AC power is not available. The pole is not included, but it does include a handy metal bracket with holes for mounting. An extra wire and display mount plaque can also be bought separately.
Remember that the pole isn't included with this!
Details and updated pricing found from Amazon 👇
Pole Mount Anemometer by Inspeed
Battery powered - last for months continuous use
Accurate (3 to 4% of reading or +/- 1mph)
1 second update rate for gusts
Captures Max and Average
Dual digital display can be hundreds of feet away
Last update on 2020-05-02
AcuRite 01500 Wireless Weather Station
Okay, so clearly this one might be a little overkill if all you want is a cup anemometer. But if you're looking for more, this awesome bit of kit will let you measure all kinds of weather data.
I've recommended AcuRite products on this website countless times, and this model is particularly great. With this gadget, you'll be able to easily measure temperature, wind speed, humidity, rainfall, and wind direction all in one.
You can mount this outside, e.g. on the side of a building, and stream the information to your wireless display up to ~330ft away. More than enough for most people.
Details and updated pricing found from Amazon 👇
AcuRite 01500 Wireless Weather Station with Wind and Rain Sensor
Uses patented Self-Calibrating Technology to provide your personal forecast of 12 to 24-hour weather conditions
5-in-1 Weather Sensor records outdoor temperature; relative humidity; rainfall; wind speed and wind direction
Programmable weather alarms for temperature; humidity; wind; rain; dew point; heat index and storm alerts
Weather Ticker streams real-time data including the moon phase, indoor comfort level, "feels like" temperature and more
Wireless range of up to 330 feet (100 meters)
Last update on 2020-05-02
Portable Anemometers
This article is focused primarily on cup anemometers & pole mounted anemometers, but I appreciate that some people like to know all the options. If you've read this far, and would also like to consider a handheld portable anemometer, this section is for you.
Here's a comparison table with some links to get up-to-date prices & buy from Amazon. Enjoy!
Kestrel 2000

Proster Anemometer

HOLDPEAK 866B

BTMETER BT-100

Ambient Weather WM-4

Editor Rating

Dimensions

122mm x 42mm x 20mm


104mm x 41mm x 18mm

165mm x 85mm x 38mm

190mm x 119mm x 53mm

140mm x 45mm x 19mm

Weight

65g

281g

198g

258g

181g

Wind Speed Range

0.4 to 40 m/s

0.40 to 30.0 m/s

0.3 to 30m/s

0.3 to 30m/s

0.4 to 40 m/s

Accuracy

±3% of reading

±2% of reading

±3% of reading

±5% of reading

±3% of reading

Measurement

Current Wind Speed,
Maximum Wind Gust,
Average Wind Speed,
Air, Water & Snow Temperature,
Wind Chill

Wind Speed, Air Volume

Wind Speed, Temperature, Wind Chill

Wind Speed, Wind Temperature, Wind Chill

Windspeed, Direction, Temperature, Humidity, Compass, Dew Point, Comfort Index

Units of Measure

knots, mph, kph, ft/min, m/s, Beaufort, ºC, ºF

knots, mph, kph, ft/min, m/s

knots, mph, kph, ft/min, m/s, ºC, ºF

m/s, km/h, ft/min, knots, mph

knots, mph, kph, ft/min, m/s, Beaufort

Display Backlight

✓

✓

✓

✓

✓

Auto Power Off

✓

✓

✓

✓

✓

Price

Check Here

Check Here

Check Here

Check Here

Check Here