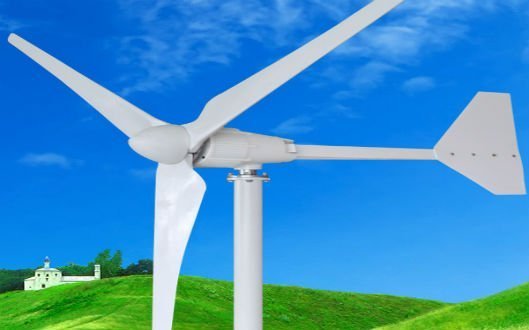 Best Affordable Home Wind Turbines: Below $500
DISCLOSURE: THIS POST MAY CONTAIN AFFILIATE LINKS WHERE WE GET A COMMISSION IF YOU DECIDE TO MAKE A PURCHASE THROUGH THESE LINKS, AT NO ADDITIONAL COST TO YOU.
We're recently reviewed and wrote about the best home wind turbines, however those we're high-end home wind turbines which means they are mostly expensive. We've decided to review five more home wind turbines that are more affordable without compromising quality.
The Vevor 400 Watt wind turbine is a small and lightweight home wind turbine with an attractive design. It's made from high-quality aluminum alloy and stainless steel with a magnetic circuit motor that runs smoothly and quietly. The operating temperature of its fan is from 30-60 degrees, which makes it applicable for most parts of the world.
Features:
✔ Small and Lightweight human-friendly design
✔ Easy to install and high-quality build
✔ Low start-up speed with High power utilization
✔ Battery overcharging protection
✔ Quiet operation
Specifications:
| | |
| --- | --- |
| Model Number: | Vevor 400Watt |
| Dimensions: | 25 x 13 x 8 in |
| Weight: | 17.28 lbs |
| Voltage: | DC27-54V |
| Rated Power: | 400W |
| Rotor Diameter: | 1.2 m |
| Startup Wind Speed: | 2.5m/s |
| Battery Capacity: | 110 mph |
The Taishi 400W is a 5-blade horizontal home wind turbine that is ideal for home use, monitoring use or boat use. This home wind turbine has a low wind start-up, and it automatically adjusts to wind direction. Although it's a real powerhouse, it produces low noise and vibration. This wind generator is famous for battery charging mobile homes, gazebos, boats, etc.
Features:
✔ Wind direction auto adjustment
✔ Made of die-casting aluminum alloy
✔ Low wind start-up
✔ Quiet operation and low vibration
✔ 30 to 60 degrees working condition
✔ Includes 1-year warranty
Specifications:
| | |
| --- | --- |
| Model Number: | Taishi 400W 5 Blade |
| Weight: | 15 lbs |
| Voltage: | 24V |
| Rated Wind Speed: | 13 m/s |
| Startup Wind Speed: | 2 m/s |
| Survival Wind Speed: | 50 m/s |
| Rotor Diameter: | 1.35 m |
| Number of Blades: | 5 |
The Eco-Worthy 400W is the cheaper counterpart of its 600W model. Its maximum daily output is 1.4KW and works even if there's only wind power or solar power, hybrid or single power. Just like other Eco-Worthy home wind turbines, the 400W is ideal for remote homes or cabins that are windy areas.
Features:
✔ Aluminum housing design that's good for heat resistance
✔ Lightweight but durable built
✔ High-performance nylon fiber blades
✔ Unique electro-magnet design for low startup wind speed
✔ Aerodynamic blade elasticity for over-speed protection
✔ Hybrid controller for wind turbine and solar panel
Specifications:
Model:
ECO-WORTHY 400W
Dimensions:
Packing: 27.1 x 14.4 x 8.3in
Solar Panel: 39.3 x 26.2 x 1.38 in
Weight:
Turbine: 17.64 lbs
Solar Panel: 20.2 lbs
Voltage:
12-24V
Energy Potential:
400W
Startup Wind Speed:
2.5 m/s
Survival Wind Speed:
35 m/s

The SHZOND 400W home wind turbine generator is ideal for the leisure industry. It has become famous for battery charging on mobile homes, gazebos, boats or chalets. It almost has the same specs with Eco-Worthy 400W minus the Solar panel making it cheaper.
It also has a Charge Controller function for each wind turbine allowing you to get the most power out of this home wind turbine as well as to protect your home wind turbine from overcharging.
Features:
✔ User-friendly design
✔ Lightweight and easy DIY installation
✔ High wind power utilization
✔ Low vibration
✔ Blades are made from reinforced glass fiber
✔ Optimized structure and aerodynamic shape
Specifications:
Model:
SHZOND 400W
Dimensions:
Wind Turbine: 27 x 14.4 x 8.3 in
Controller: 5.9 x 3.4 x 1.1 in
Rotor Diamerter:
1.2 m
Voltage:
12-24V
Rated Power:
400W
Startup Wind Speed:
2.5 m/s
Working Temperature:
-35~+75℃
Package Content:
Wind Turbine x 1
Controller x 1
Nose Cone x 1
Set Screws and Nuts x 1
Blades x 3
Instruction Manual x 1
The Happybuy 300W Wind Turbine Generator is the cheapest home wind turbine on this list. If you're on a budget and a newbie, this is the one for you. It is perfect for the home yard, boats, advertising signs, telecommunications tower, etc. It might not produce as much energy but it sure it will help on for its purpose.
Features:
✔ Clean and aerodynamic lines
✔ Quiet and continuous operation
✔ Fully automatic with the brake system for over-speed protection
✔ AFFORDABLE!
Specifications:
| | |
| --- | --- |
| Model: | Popsport 300W |
| Dimensions: | 25 x 11 x 9 in |
| Rated power | 300W |
| Voltage: | 24V |
| Number of blade: | 6 |
| Startup Wind Speed: | 4 m/s |
| Survival Wind Speed: | 40 m/s |
| Working Temperature: | -45°C-70°C |